Meta, Microsoft, and Fujitsu have signed power purchase agreements (PPAs) in Denmark, Chile, and Australia respectively.
In Denmark, the social media giant has partnered with Luxcara for a largescale solar deal. In Chile, the cloud company is to use solar and wind energy from AES to power its upcoming Chilean Azure region. And in Australia, the Japanese IT firm has signed a wind energy deal with CWP Renewables to power its operations in New South Wales.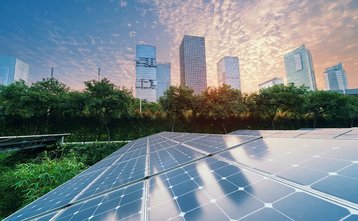 Meta signs mega solar PPA in Denmark with Luxcara
In Denmark, Meta (formerly Facebook) has signed a 300MW PPA with German energy firm Luxcara.
The solar projects will total over 300 MWp of installed capacity on site and will deliver approximately 210 MWac of green electricity to the grid. Luxcara said this is the biggest solar energy purchase agreement in Denmark.
The Agreement comprises three solar projects, two in the region of Zealand and one in Jutland that will support Meta's operations in Europe, including its data center in Odense.
The two companies have previously partnered around Norwegian wind farms in the Bjerkreim cluster; Meta's agreements with Luxcara in Europe represent nearly €1 billion ($1bn) of investment in new renewable energy capacity.
''We are delighted to strengthen our relationship with Meta with this new, highly impactful PPA, and to further demonstrate our expertise in securing long-term, as-produced PPAs in new markets. We look forward to partnering with Meta for many more projects in the future and to drive the energy transition forward jointly," said Alexandra von Bernstorff, Managing Partner of Luxcara.
"We are excited to partner with Luxcara once more to bring new renewable energy to the grid in support our operations," added Carsten Soerensen, Site Manager of Meta's Odense Data Center. "These new solar projects will not only contribute to our commitment to support all of our operations with 100 percent renewable energy, but will bring jobs, investment and additional renewable electricity to the region."
Microsoft signs solar & wind PPA with AES in Chile
In Chile, Microsoft has signed a PPA with AES Andes S.A. to power its upcoming Chilean Azure region.
"In Chile we are fully committed to achieving Microsoft's sustainability commitment and our data center is an important initiative for that. The project with AES Andes to use wind and solar energy is the first initiative and we are working on the other fronts," said Sergio Rademacher, General Manager of Microsoft Chile.
The company first announced plans for a Chile data center region in December 2020. According to plans filed with the government, the 6.8-hectare site located in the Quilicura area of Santiago will include a single data center building split into two and built over two phases.
"We are very honored and proud to help and accompany Microsoft in meeting its global sustainability goals. This contract is very innovative, involving multiple technologies and was tailor-made to meet Microsoft's requirements. We are all working together to accelerate the future of energy," said Ricardo Falú, CEO of AES Andes.
Falú added that power supply will come from two projects that will begin construction soon: a solar plus battery project located in the Antofagasta region and a wind project located in the Biobío region. BNAmericas notes that AES has two wind projects in Biobío: a US$298mn farm in the center-south of the region, projected to have 100MW capacity, and another US$255m facility with 68MW estimated capacity. It is not clear which, or if both, will be used to supply Microsoft's data centers.
AES notes that the new Microsoft facility will use a "zero water" concept for more than half the year through adiabatic cooling, and will support 100 percent on-site wastewater treatment and reuse for landscaping, washing, and makeup of cooling towers.
Microsoft has a single Latin American Azure cloud region in São Paulo that launched in 2014. It has another one planned in Rio de Janeiro, Brazil, and another in Mexico's Querétaro region.
Fujitsu signs PPA for wind energy in Australia with CWP Renewables
In Australia, Fujitsu Australia signed its first PPA to sourced energy from CWP Renewables' Sapphire Wind Farm. From June 2022, the renewable energy purchased annually through this agreement will equate to around 40 percent of Fujitsu's data center load in New South Wales (NSW) and offset around 30,000 tonnes of carbon emissions each year.
This is the largest PPA undertaken in the Fujitsu Group to date.
Graeme Beardsell, Chief Executive Officer, Fujitsu Australia and New Zealand, said: "Fujitsu Australia is proud to be leading Fujitsu globally with this PPA. Our purpose is to make the world more sustainable by building trust in society through innovation, and this agreement is a firm marker of our purpose in action.
Fujitsu's six data centers are located in Homebush Bay, Western Sydney, and North Ryde in New South Wales; Noble Park in Victoria; Eight Mile Plains in Queensland; and Malaga in Western Australia. The Sapphire Wind Farm is located outside Glen Innes, in the New England region of NSW.
Fujitsu Group has a target to reduce its global carbon 71.4 percent by 2030, compared with 2013 levels. The company has previously invested in a 99.6kW solar power installation at its Eight Mile Plains data center in Queensland in partnership with Bunjil Energy.
Jason Willoughby, Chief Executive Officer of CWP Renewables added: "We are very pleased to be supporting Fujitsu and its customers to reduce their carbon emissions over the next decade. Through this PPA, Fujitsu is not only contributing to the transition to net zero emissions, but supporting ongoing regional investment, which Sapphire Wind Farm provides through jobs, community investment and sponsorships."