Mission Critical Facilities International (MCFI) is supplying a modular data center to an unnamed "clean computing infrastructure company" delivering cloud computing powered by fossil gas in North Dakota.
MCFI will provide a 500kW data center, consisting of 20 racks of Nvidia GPU servers in a 58 x 12 ft outdoor enclosure. The data center will be sited at an oil well in North Dakota, and used for "digital flare mitigation". It will harness natural gas which would otherwise be flared off, and use the energy for computing.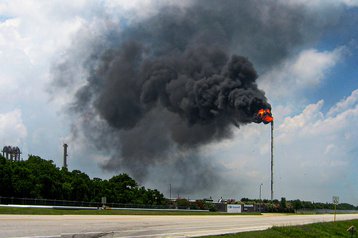 The customer is not named, but the business model is the same as that of Crusoe Energy, which sites modular data centers at oil wells in North Dakota and Montana.
Oil companies often burn off natural gas at oil wells, deeming it uneconomic to exploit the energy resource. Crusoe has been the leading exponent of digital flare mitigation, which operates small data centers at oil wells powered by this flared gas. The company argues this provides an environmental benefit, as it uses an otherwise wasted energy source and burns the gas more efficiently, ensuring that more of the methane is converted to CO2, which is a less powerful greenhouse gas.
Most of Crusoe's computation has been used for crypto mining, but the company has recently diversified into cloud computing and colocation. If offers Xeon/Nvidia virtual machines in servers with rack power density from 12.5kW to 25kW per rack, or 250kW per module, scalable up to multiple megawatts with more upon request.
In response to a request from DCD, MCFI has refused to name its customer, saying: "MCFI is not disclosing the name of the implied partner in the press release due to ongoing projects in the Permian Basin."
The Genius outdoor data center provided by MCFI in North Dakota does, however, closely match what Crusoe is offering to customers. It supports up to 500kW, with 160 Nvidia GPU servers in 20 racks, with power density up to 25kW per rack. The container also has an intrusion prevention system (IPS) and UPS backup. The Genius module has a closed-loop liquid cooling system with rear door heat exchangers on the racks, giving it an expected PUE of less than 1.2.
MCFI says it will deliver the unit to the client's campus, a site which it says is "open and serving customers," within 23 weeks. This is within its normal quoted delivery time of five to eight months.
DCD has not yet heard from Crusoe, so we don't know whether MCFI is supplying Crusoe, or a competing digital flare mitigation company. Crusoe has previously said its data centers are made by custom fabricator Easter-Owens, but noted other partners could be used in future.
As well as Crusoe, the likes of Earth Wind & Power (EWP) and Validus Power are also offering similar solutions that run on flared gas; EWP has previously used container modules from Germany's Cloud & Heat.