Lynk Global has launched two more direct-to-cell satellite 'base stations' into orbit.
The company (formerly known as UbiquitiLink) this week announced the successful launch and deployment of two more satellites in the company's commercial cell-towers-in-space constellation.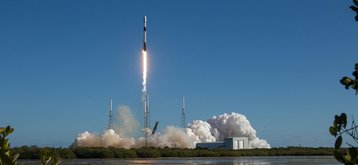 Lynk is one of several companies that is seeking to connect mobile phones via satellites in space, in a bid to expand coverage to remote locations where mobile signal is non-existent.
The company sent its first Lynk Tower 1 satellite into space last year. When commercially launched, the orbital base stations will be able to connect to existing standard mobile devices on Earth, providing 2G, 4G, and 5G connectivity.
Two more Lynk Towers were launched into orbit on January 3 aboard a SpaceX Falcon launch alongside more than 100 other satellites including those owned by D-Orbit, NASA, Planet Labs, and SpaceX subsidiary Swarm Technologies.
Charles Miller, CEO of Lynk, said: "This launch extends Lynk's leadership in the satellite-direct-to-standard-phone category. While others have just figured out that satellite-direct-to-phone is a big deal, we invented and patented the technology in 2017, started testing the technology in space in 2019, and now have three commercial satellite-cell-towers-in-space. We are years ahead of everybody else."
Lynk has signed commercial agreements with 25 MNOs covering 41 countries and said it is 'actively testing' satellite-to-standard-phone connections in 17 countries on all seven continents.
A fourth satellite is also planned as part of the initial roll-out, with a limited commercial launch set for sometime in 2023.
The satellite-direct-to-phone telecoms company has previously signed an agreement with Belgian communications firm BICS to expand mobile coverage to remote rural areas. The company has also signed contracts with operators on seven island nations in the Pacific and Caribbean, including Telikom Limited in Papua New Guinea, Aliv in the Bahamas, and bmobile in the Solomon Islands, as well as Mongolia's Unitel and Telecel Centrafrique in the Central African Republic.
AST SpaceMobile is also developing its own constellation of direct-to-mobile satellite communication satellites. It has agreements with the likes of Vodafone and AT&T.
Elon Musk's SpaceX recently struck a deal with US operator T-Mobile to provide mobile signal connectivity from space, via its Starlink satellites. T-Mobile is hopeful the venture will provide speeds of 2-4 Mbps through Starlink's satellites.
Qualcomm has partnered with Iridium to provide satellite connectivity to future Android phones, while Bullit and Apple are also rolling out similar capabilities.
Starlink signs airBaltic deal
In other satellite news, SpaceX has signed a distribution deal with European airline airBaltic, which will use the company's Starlink satellites to provide in-flight Wi-Fi across its entire Airbus A220-300 fleet, totaling 39 aircraft, starting later this year.
Martin Gauss, Chief Executive Officer of airBaltic, said: "This marks a historic moment for our airline and the industry as a whole. Soon airBaltic will become the first airline in Europe to launch high-speed, unlimited, and free-of-charge satellite internet on board."
SpaceX vice president of Starlink sales Jonathan Hofeller added: "By becoming the first European airline to implement Starlink fleetwide, airBaltic is setting a new standard in ensuring its passengers have an internet experience that they have come to expect in our modern age."