Update: Microsoft has confirmed that Charlie Bell will head a new engineering organization inside Microsoft that will oversee security, compliance, identity and management. He will report directly to Microsoft CEO Satya Nadella and will join Microsoft's Senior Leadership Team "once a resolution is reached with his former employer."
"We believe Charlie Bell's new role can help advance cybersecurity for the country and the tech sector as a whole, and we are committed to continuing our constructive discussions with Amazon," Frank Shaw, corporate VP of Communications at Microsoft, said in a statement.
Original story: One of the key people behind Amazon Web Services has left the company to work at rival Microsoft Azure.
Charlie Bell spent 15 years at AWS (and 23 overall at Amazon), and was long considered a likely replacement to the cloud division's head, Andy Jassy. But when Jassy was made CEO of Amazon earlier this summer, he appointed Salesforce's Adam Selipsky to the top job.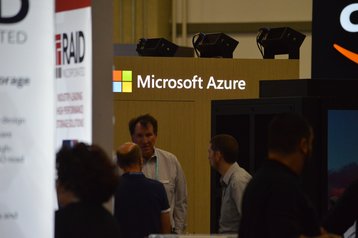 Bell joined Amazon in 1998 as a director after Amazon acquired his company Server Technologies Group. He moved to the fledgling AWS division in 2006, helping manage pricing, software development, and other key aspects of the cloud business.
A member of Amazon's S-Team senior leadership team, Bell was instrumental in the growth of AWS. At the company, he was a peer with Selipsky, who then left to become CEO of Tableau. With Selipsky's return, Bell would have been a subordinate to his former corporate equal.
Business Insider reports that the departure was a surprise to colleagues, with many of his direct reports only finding out on his last day in office. Peter DeSantis, AWS infrastructure SVP, will take over Bell's 'utility computing' work, while VP Prasad Kalyanaraman will take over responsibility for infrastructure and network services, CNBC reports.
It is not clear what role will take at Microsoft, but he will report to EVP and chief human resources officer Kathleen Hogan (although this may be a temporary arrangement).
Amazon and Microsoft are still negotiating what Bell is allowed to work on without violating his Amazon noncompete agreement.
Bell has yet to comment on the move.