US colo firm LightEdge has acquired underground data center firm Cavern Technologies, in its first deal since being acquired by GI Partners.
Founded in 2007, Cavern Technologies owns a 3-million-square-foot underground facility outside of Kansas City in the Meritex Caves in Lenexa.
Housed 125 ft underground, the facility has more than 160,000 sq ft of completed hosting space, with the ability to add up to 700,000 sq ft. It has more than 50MW of power available, fed through two substations.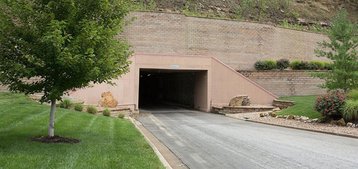 "This is the first acquisition under our new ownership by GI Partners, and we are very pleased to acquire an outstanding company such as Cavern to expand our existing footprint in Kansas City," said Jim Masterson, CEO of LightEdge. "John Clune and his team have built a tremendous brand and reputation in the market. This acquisition unlocks new opportunities for us and further positions LightEdge as a leading infrastructure provider in the Midwest."
Terms of the deal weren't disclosed. Masterson said the company is "actively looking" to expand its presence throughout the US and "excited" about the prospect of future acquisitions.
"Our uniquely secure, easy-to-access underground facility provides customers with all the options they need for their colocation and connectivity requirements, and we are proud to now be an integral part of LightEdge," said John Clune, co-founder and CEO of Cavern Technologies.
The deal is LightEdge's first acquisition under its new ownership by GI Partners, which bought the Des Moines-based company earlier this month.
Xiao Tsai, Principal of GI Partners added: "We are excited to support LightEdge's expansion in Kansas City, one of the fastest-growing markets in the Midwest for colocation demand. The acquisition accelerates LightEdge's vision to be the leading hybrid-IT infrastructure platform serving Tier II markets in the Midwest."
Founded in 1996, Iowa-based LightEdge operates seven data centers in Des Moines, Kansas City, Omaha, Austin, and Raleigh, and had been majority-owned by the Anschutz Corporation since 2008.
Founded in 2001, GI Partners invests in private equity, real estate, and data infrastructure, and founded Digital Realty in 2004. The company currently has investments in several fiber and broadband companies as well as Hawaiian data center company DR Fortress and a number of individual facilities. It also has stakes in Flexential and recently set up a new Life Sciences and data center fund.
Cavern is built into natural limestone caves, which protect the facility from above-ground natural disasters, like hurricanes and tornadoes. The structure is fully environmentally contained, with self-closing doors, sealed exterior penetrations and vapor barriers.