Khazna Data Centers is to build a new data center in Sharjah, in the United Arab Emirates (UAE).
The wholesale data center firm this week announced that it has formed a joint venture with BEEAH Digital, BEEAH Group's digital transformation and future technology business, to build a data center in Sharjah.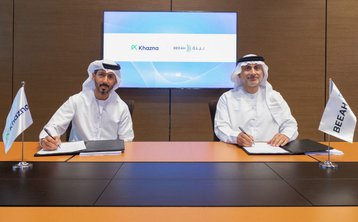 The newly established joint venture will be called One Data Center SPV Limited and will operate under the name of Khazna Data Centers.
The new data center will have a capacity of 9MW and will minimize emissions via solar power. The companies said it will be built to Tier III quality, and constructed to achieve green building certifications from Estidama and LEED. The facility will aim to reduce water consumption with systems to reuse and recycle wastewater.
Hassan Alnaqbi, CEO of Khazna Data Centers said: "At Khazna Data Centers, we are focused on further investments in building the infrastructure in UAE to enable our existing and new customers in Sharjah, specifically to launch their services closer to their consumers. The data center will be well-positioned to support businesses in enhancing the experiences of their customers, unlocking the value of technologies, and making headway on their carbon footprint reduction goals by meeting their environmental and sustainability needs."
Earlier this year, BEEAH Group launched the region's first commercial-scale, waste-to-energy plant in Sharjah with a 30MW output. A portion of the output from this waste-to-energy plant is being explored as a potential energy source.
Khaled Al Huraimel, vice chairman and Group CEO, BEEAH Group, added: "Keeping communities connected and providing ready access to digital services is essential for a good quality of life. With a Tier III data center, we can enhance the available infrastructure to government entities as well as private companies. The advanced IT infrastructure will help boost investments, attract business and bring world-class services and data sovereignty for the wider public."
Founded in 2012, Etisalat Group and G42 announced plans to combine their data center portfolios under the Khazna brand in October 2021. Before this week's announcement, Khazna operated a total of eight data centers, and had three data centers under construction with a further three in the pipeline totaling 220MW across the United Arab Emirates.
Founded in 2007, BEEAH Group began as a Sharjah-based public-private partnership company focused on environmental and waste management, before expanding.
More in Construction & Site Selection