Kazakhstan IT firm Kazteleport is planning to develop a data center in neighboring Uzbekistan.
Representatives from Kazteleport JSC recently met with the Ministry for the Development of Information Technologies and Communications of the Republic of Uzbekistan to discuss 'cooperation in the field of information and communication technologies.'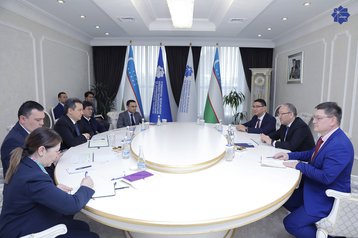 As well as exploring the potential development of business process outsourcing (BPO) and knowledge outsourcing (KPO) services in Uzbekistan, the parties agreed to build a data center in the Central Asian country.
"We plan to enter the Uzbek market as a cloud operator," Askar Kusainov, head of Kazteleport JSC, told Profit.kz. "The market is growing faster than infrastructure, so there is a demand for an experienced service provider with guaranteed quality. Currently, the company is being registered in Tashkent and staff are being recruited to start cloud services. This year we plan to select and buy a site for the construction of a data processing center, prepare it and develop a project. While construction is going on, we will train personnel and order equipment."
"The government of Uzbekistan is well aware of the current challenges and opportunities, therefore it actively supports the construction of data centers and communications for state needs," Kusainov added. "Almost all industries are being automated. The data center sites we reviewed convinced us that the facilities are being built to high standards and using quality materials."
According to preliminary estimates, the market demand for commercial data centers in Uzbekistan is already at least 500 racks; a two-fold increase in demand is expected over the next two to three years. Further details about facility specifications, location, or project timelines were not shared.
Kazteleport JSC is a subsidiary of Halyk Bank of Kazakhstan, offering telecoms, IT, and data center services. It operates nine facilities across Almaty and Nur-Sultan.
Kusainov noted that the bank has approved the plans and will be funding the project.
There are currently a very limited number of data centers in Uzbekistan; local providers include IPlus, Metrotelecom, and ITI-IX. The government's State Investment Committee has previously invited investors to develop a 40MW data center in the country in Tashkent.
Previous reports suggest Rosatom was planning to build a data center in Uzbekistan, but it's unclear if this ever came to fruition.
More in Construction & Site Selection