Kazakhstan's telco Transtelecom has built a backup data center for Russian bank Sberbank's operations, in the oil-rich county, which neighbors Russia.
The company this month held and opening ceremony of the backup Data Processing Center (DPC) of SB Sberbank JSC, located in in the city of Karaganda, in the northeast of Kazakhstan. Specifications weren't shared.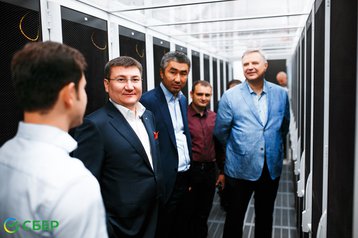 The facility was built as part of a "project to build a disaster-resistant IT infrastructure for the bank," according to Transtelecom.
Rather than a reaction to the current climate in the wake of Russia's invasion of Ukraine, Transtelecom said the project has been in the works since 2020.
"The bank's two main data centers are located in a seismic zone, in Almaty [Kazakhstan's largest city]. To ensure the continuity of information systems in the event of an earthquake or other emergency, it was decided to introduce a third disaster-proof data center," the company said.
The new facility makes it is possible to switch bank services within four hours; this month Sberbank successfully completed a switch from the main data centers in Almaty to the backup center in Karaganda and fully worked for one day from the backup site, before switching back to the main data center.
Transtelecom (separate from the Russian company of the same name) was formerly a subsidiary of state-owned national rail firm Kazakhstan Temir Zholy and set up to provide communications along the country's rail network. The company was taken private in 2021.
Recent reports suggest Sberbank is looking to sell its Kazakh operations to the state's holding company Baiterek in response to international sanctions.
Sberbank has already sold its stakes in its cloud unit SberCloud as well as a number of other non-core digital services. Reports suggest this is to help those companies avoid sanctions placed on the state-owned lender.
In September 2021, Sberbank announced plans to build 55,000 square meters (592,00 sq ft) data center in Russia's Saratov Oblast. Cnews.Ru reports Sberbank owns another data center in the Yuzhny port, and announced plans to build another data center in the southeast of Moscow in October 2020.