Kakao has started compensating businesses and its KakaoTalk messenger users for last October's data center fire.
On December 29, Kakao announced a damage support plan with the '1015 Damage Support Council'. The council analyzed ~100,000 cases of damages. Among the total cases, those which featured a monetary damage claim included 14,918 cases (17.1 percent) for paid services, and about 13,195 cases (15.1 percent) related to free services.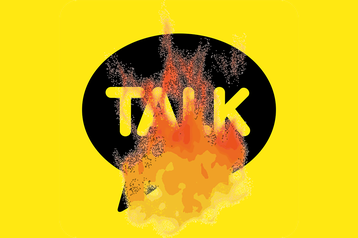 Kakao will hand out between 30,000 won ($23.70) to 50,000 ($39.28) won of compensation to small individual businesses that reported revenue losses after the October fire caused a significant outage, bringing down the messaging service as well as several other sectors in South Korea, including social media, business, finance, and transportation for 127 hours.
The company also began sending out three emoji packages to KakaoTalk users yesterday as further compensation.
"To compensate all our users for the damage caused by the fire at SK C&C data center last year, we are going to hand out the 'heart package' which includes our three new emoticons,' Kakao announced.
Of the three emojis, only one is to remain permanently free. The other two will expire after 90 days. In addition, the company is offering vouchers for one month's free access to its 'Talk Drawer Plus' data backup service for the first 3 million applicants. After the first month, an automatic subscription charge will occur.
While a Kakao official said that they would send notification messages to the recipients of the vouchers so that they can cancel the automatic 'pay bill' function before their voucher expires, the company has faced criticism for the method of compensation. Free trials are often offered by companies with the hope that the quality of a service will entice users to remain subscribers, or that they will forget to cancel their subscriptions. While it may have a temporary monetary loss for the company, it is likely that Kakao will generate some income.
In a press release, the company said: "Over the past two months, Kakao has listened to the opinions of various industries and put a lot of thought into coming up with a plan that will be of practical help to users. However, despite these efforts, we are well aware that the plan we have prepared cannot satisfy everyone.
"We promise that we will continue to do our best to become a platform that connects everyone's communication more firmly so that the support plan announced is not the end but the beginning of restoring trust."
The fire that caused the outage broke out in October last year in a building in Panyo owned by SK Group, which houses data centers for Korea's two leading Internet companies Kakao and Naver, and impacted KakaoTalk.
While Kakao was given a dressing down by government officials over its operational resiliency, SK has taken 'full responsibility' for the fire, which was caused by lithium-ion batteries made by SK On.
KakaoTalk is used by the vast majority of South Korea's population and is regarded as "practically national communications infrastructure." The company has spent the last few months dealing with the aftermath, including a class action lawsuit, and at the end of Q3 last year was expecting a $28 million hit to its Q4 earnings.