South Korean Internet company Kakao has said that a lithium-ion battery fire caused the KakaoTalk outage that caused chaos at the weekend. However, SK Group, which made the batteries and operated the data center where the fire took place, has denied responsibility.
Kakao has said that the fire at an SK Group data center on Saturday was caused by a burning lithium-ion battery made by an SK Group subsidiary - and SK Group has denied that its battery management system (BMS) showed any trouble.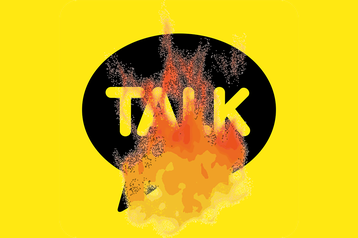 Kakao and SK Group have entered a blame game over the fire, which took place on Saturday at an SK Group data center in Pangyo, Seoul. The fire brought down KakaoTalk, a messenger app service used by 90 percent of Koreans, and disabled multiple other services including banking, payment, and travel apps.
Lithium-ion batteries are prone to fires caused during "thermal runaway," and such fires can have serious consequences, so lithium-ion batteries are normally equipped with battery management systems (BMS) to monitor temperature and performance, and alert users of any imminent danger.
Recent outages, including the fire in 2021 which destroyed OVHcloud's entire SBG2 data center in Strasbourg have been blamed on lithium-ion battery fires (although OVHcloud has so far failed to report on a precise cause),
Yesterday, Kakao CEO Hong Euntaek told a press conference that the fire was started by a lithium-ion battery in the SK Group data center's electrical control room, adding that the battery was made by SK Group's SK On subsidiary, according to The Korea Times.
This report is unconfirmed, as the police and fire services are investigating the cause of the fire.
Subsequent local news reports claimed that SK Group's BMS gave two fire warnings hours before the actual fire broke out, and a worker inspected the site twice. According to The Korea Herald, SK Group has denied the claims, and released a copy of the actual BMS power and voltage graph which shows normal operation.
"The graph showing the condition of the lithium-ion battery presumed to have caught fire had remained stable until the moment of the accident at 15:19, The BMS only sends warnings in case of a wild fluctuation in the graph. Our worker, therefore, did not visit the building to check the facility," according to an SK Group press release issued today.
DCD has asked SK Group for a copy of the BMS output.
SK and Kakao play the blame game
Both companies are likely to take blame for the outage, as Kakao's disaster recovery process was shown to be lacking. However, if SK Group can be shown to be responsible for the actual fire, then SK could be liable for a portion of the compensation paid to users - some of whom are organizing class action suits to claim damages arising from the outages
Kakao itself is reckoned to have suffered 20 billion won ($13.9 million) in direct losses, and will be receiving many claims over business lost by partners such as merchants using its payment system and taxi drivers using its ride-hailing app.
Both companies are taking legal advice, with SK C&C hiring South Korea's largest law firm, Kim & Chang. Kakao is reported to be picking its representation.
South Korea's government will be calling for an explanation from chief executives of Kakao and SK Group, and also form rival Internet group Naver, who also suffered an outage due to the SK Group fire, but operated a disaster recovery plan which brought its services back swiftly.
The parliamentary audit session will also hear from Kakao founder Brian Kim (Kim Beom-Su) and SK Group Chairman Chey Tae-won. Kim resigned from the CEO post earlier this year following scandals over share options, but has been accused of creating the mess by presiding over a company that prioritized growth over stability. He currently serves as head of Kakao's international expansion and future initiatives.