New JLL research suggests that the Frankfurt, London, Amsterdam, Paris, and Dublin (FLAPD) markets will see 423MW of data center capacity added throughout 2023.
The company's EMEA data center report looking at the first quarter of 2023 predicts that the region will see a record 17 percent growth in capacity over the next year, with more than half of that concentrated in Frankfurt and London.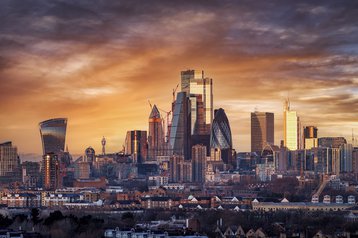 While significantly less than has been predicted by CBRE, which suggests there will be 524MW developed this year, this is still record-breaking growth.
While the report acknowledges that growth cannot continue indefinitely in the FLAPD markets, Daniel Thorpe, senior research analyst and co-author of the report, told DCD that we can continue to expect growth for some time.
"I've seen it exaggerated in the last five years, that we are suddenly going to stop seeing the growth in the FLAPD markets. But every year, that hasn't happened, we've seen record growth in those sectors," said Thorpe.
"We are still going to see new supply added to those markets, but we are reaching a peak in terms of record-breaking years, and that will move into take-up in those secondary markets."
The report puts this continued growth down to several drivers, including the transition to the cloud, a growth in AI, autonomous vehicles, and 5G expansion. There was a significant shift towards hyperscale demand, with 2022 seeing 83 percent, compared with 2021's 66 percent.
While JLL doesn't have an exact ranking of those factors, Thorpe conceded that the transition to the cloud is probably the primary driver, though notes that we are seeing "more and more growth towards the AI sector, but it is still in its infancy at the moment."
Q1 of 2023 has so far seen 66MW of take-up across FLAPD, making it the strongest quarter on record. Given that 484MW was pre-let last year, this number is unsurprising with those pre-let developments mostly going live this and next year.
Supply chain delays and lead times remain long, having shifted from 12-16 months to 24 months in some cases. This is partially due to inflation and rising construction and energy costs, though JLL expects this to settle in 2024.
Frankfurt will remain the biggest mainland European market, says JLL, having grown by 150 percent since 2016. 2023 can expect to see 118MW of capacity added, in part due to 2022 not meeting predictions and some being carried over to 2023. JLL also noted that demand has led to a significant increase in land pricing, with land costs increasing by 25 percent between 2020 and 2022.
London remains the overall biggest European Market, with a total capacity of 896MW. JLL is predicting 122MW of capacity to be added in London this year, despite no new developments occurring in Q1. Notably, we saw Digital Reef apply for a 600MW campus in East Havering in November 2022. After a drop in take-up through 2022, JLL is predicting this to increase again throughout the year.
Paris has experienced fast growth over the past year. The city saw 63MW developed in 2022 and JLL is expecting 2023 to have 69MW developed, with 60MW already pre-leased. Notably, Equinix closed its PA1 data center while also signing a pre-lease with Icade in February for a nine-year deal valued at $38.4 million.
Amsterdam has had its market slow down after its moratorium. In 2022, the region had just 13MW added, bringing its total footprint to 448MW. JLL is predicting this will increase significantly in 2022, rising to 59MW in 2023. This being said, Q1 saw only 1MW of deals signed in the region. According to JLL, the moratorium has had an ongoing political impact on the market with some dissidence against developments including Microsoft's Dutch data center permit in the northwest of the country.
Dublin, also impacted by power issues and a de-facto moratorium, can expect to see 64MW of data center space developed this year. The first quarter saw just 0.1MW of take-up, though JLL predicts this will increase to 64MW over the course of the year.
Thorpe told DCD that he doesn't think the industry needs to be too concerned about moratoriums being a reoccurring problem.
"I don't think we'll see a moratorium like we've been seeing. But, that being said, In Frankfurt, they are looking to set up some regulations surrounding power usage, but this will simply be a further driver towards secondary locations," said Thorpe.
Tier II markets JLL has drawn attention to include Berlin which currently stands at 92MW of capacity, with 53MW expected to be added this year, and Madrid, which has 89MW of capacity and should gain 35MW in 2023.
JLL also drew attention to Vienna, Austria, where NTT recently opened its third campus, Turin, Italy, which gained a new cloud region from Google, and Norway, where Green Mountain is building a 90-150MW data center for TikTok.
More in The Investment & Markets Channel