The Irish Government is considering placing restrictions on data center building, in order to meet targets for emissions and renewable energy.
In a new Climate Action Plan, the government, says it will "review" its current positive policy on data center building, because the rapid growth of facilities is a "challenge" to the legally-binding targets the Government has set itself.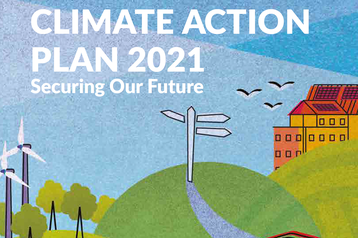 Who's using all the renewables?
Data centers' energy use is forecast to grow by 9TWh by 2030, and forecasts for their energy use range from 23 percent to 31 percent of Irelands grid supply by 2030, according to the state-owned utility Eirgrid. This comes at a time when the government wants to reduce emissions by 60 to 80 percent, by increasing the proportion of renewables. At the same time, the Government wants to decarbonize heating and transport by moving them to electricity, increasing the demand on the grid further.
Eirgrid has agreed to connect another 1.8GW of data centers to the grid, which currently has a peak demand around 5GW, according to the Irish Times - and there are another 2GW of applications in the pipeline.
"The forecast growth of data centers clearly represents a challenge to Ireland's emissions targets," says the Plan. "To deal with this, the government will review its strategy on data centers to ensure that growth of such users can only happen in alignment with our sectoral emissions ceilings and renewable energy targets.
"The impact of data center growth on security of supply will also be considered. Further regulatory measures will be considered to manage demand from large users, such as data centers, in the context of climate targets and future network needs. While decarbonizing electricity is at the heart of our strategy and we have a good record of renewable deployment, we have to do it against a background of very rapid projected growth in electricity demand.
The country has to increase its electricity capacity by 50 percent in the next ten years and "ensuring we build renewable, rather than fossil fuel, generation capacity to help meet this demand is essential. It makes economic sense, but also facilitates decarbonizing our heating and transport through electrification."
In 2018, the Government Statement on the Role of Data Centres in Ireland's Enterprise Strategy 2018' gave a positive role to data centers in the country's economic performance, but this will now be reviewed "to ensure alignment with: sectoral emissions ceilings and our renewable energy targets; ongoing security of supply concerns; and the demand flexibility measures that are now needed," the report says. "Further regulatory levers will also be considered".
Among the projects the Plan highlights is the Rhode Green Energy Park in Offaly County, at the site of the former Rhode Power Station, which is looking at integrating data centers into a regional green hydrogen scheme, supported by a grant of €738,820.
In September, the Irish Social Democrat party called for a moratorium on new data center developments in the country: "The surge in data centers risks so much – our energy security, investment, jobs, and climate action targets," the party said. "Yet, the Government has not done a cost-benefit analysis."
In June, Ireland's People Before Profit party put forward a new bill that would place an absolute ban on data centers, Liquid Natural Gas plants, and new fossil fuel-related infrastructure. That bill is still being debated in the Dáil.