Investors IPI Partners must prove in court that it did not use a fraud case to unfairly oust a data center builder from a giant Amazon contract in Virginia.
Northstar Commercial Partners won a more than $500 million contract in 2017 to build data centers for Amazon. It now claims that IPI, which provided finance for the projects, conspired with Amazon to remove it from the contract, using fraud allegations that emerged in 2020 as a pretext.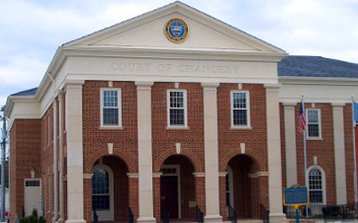 The fraud trial between Amazon and Northstar continues, but Vice Chancellor J. Travis Laster, of the Delaware Court of Chancery, has ruled that the courts need to separately determine the thorny issue of whether IPI and Amazon fraudulently exploited the main allegation of fraud to oust Northstar.
Fraud upon fraud?
The whole story began in 2017, when Amazon picked Northstar (aka WDC Holdings) to build data centers in the hotbed of data center development which takes in Loudoun County and Prince William County. Northstar would build and own the data centers, leasing them back to Amazon. The deal expanded to nine data center - the three parcels of land alone cost $415 million.
To get the finance for this, Northstar turned to IPI Partners, a financial firm with a vast portfolio of data center investments including Stack Infrastructure and Supernap Italia. Northstar and IPI set up a joint venture firm, NSIPI Data Center Venture, to develop the Amazon facilities.
In 2020, after several data centers were completed and handed over to Amazon, Northstar COO Timothy Lorman told IPI Partners that Northstar was making payments to Villanova Trust, a fund established by Christian Kirchner, who had originally introduced Northstar to Amazon through his brother Casey, who worked at Amazon. Lorman claimed Villanova Trust was a route for kickbacks to Amazon staff. The same allegations also reached Amazon.
In April 2020, Northstar founder and CEO Brian Watson was raided by the FBI, seeking information about the alleged fraud, and within hours IPI wrote to Watson effectively removing him from the contract. IPI also set in motion an effort to dissolve the joint venture, and take the business from Northstar. IPI argued that Watson had committed negligence or fraud which would constitute a "Cause Event" under the joint venture's constitution, giving IPI just cause to exercise removal and termination rights.
Watson and Northstar argue that there was no "Watson Cause Event," because Watson was unaware of any fraud. They acknowledge that there may have been a kickback scheme, but Watson had always sought and received assurances that the payments to Villanova were legitimate commissions to Christian Kirchner, and none of it would go to Casey.
Northstar claims that Lorman conspired to tell IPI about the alleged fraud before telling Watson or Northstar, and IPI then seized on the alleged kickback scheme and used it as a pretext to cut out Northstar and its affiliates, and get 100 percent of the business to itself.
Northstar and Watson say IPI fraudulently used the fraud allegation to falsely declare a Watson Cause Event, committing the torts of conversion and civil conspiracy. Amazon was also involved in this conspiracy, they say.
Vice Chancellor Laster refused to strike the case down, saying that claims that IPI engaged in fraud or misconduct to oust Northstar were plausible enough to require a court case which will argue that IPI terminated the agreement "without cause."
Laster says there is "some irony" in IPI's claims. It appears they ousted Watson before the fraud case was proven, but claim to have acted in good faith. As Laster puts it: "For purposes of exculpation, the defendants [IPI] seek the benefit of the doubt that they refused to give Watson for purposes of the Watson Cause Event."
The FBI raid
Watson, a former Republican nominee for Colorado state treasurer, said that FBI agents who visited his home "started to accuse me of fraud, misappropriation of funds, etc. in relation to our Amazon data centers."
In April, Watson said two Northstar employees had "placed a parcel of land in Virginia under contract for $96 million and flipped a few weeks later for $116 million, making approximately $20 million behind my back. I learned of this two days before my wedding...and promptly investigated this. The next day I fired these two thieves and confiscated their business computers and had them escorted from the office."
Amazon claims Watson was aware of the deal, and personally received a payment.
Watson and Northstar say that IPI terminated its contract too soon, as the FBI raid on its own does not constitute evidence that Watson was involved in fraud.
Since the raid, multiple senior executives have left Northstar, including chief operating officer Tim Lorman and chief financial officer Brent Gray.
For its part, Amazon has fired two senior executives who were involved in the project.
Another part of the fallout from the saga is that AWS and IPI have effectively swapped some plots of land, with AWS buying two of the plots of land involved from IPI Partners, in exchange for selling two plots in Prince William County to IPI-owned Stack Infrastructure.
Waiting on the main trial
Despite this ruling, it's possible that Northstar and IPI may not get heard separately, as many of the issues could be settled during the litigation between Amazon and Northstar.
"The Amazon litigation will address facts that go to the heart of this case," says Chancellor Laster's finding. "Two central issues in the Amazon Litigation are whether there was a kickback scheme, and, if so, whether Watson knew of or was involved in it. The Amazon Litigation likely will provide answers to both questions, and those answers will bind Watson and Northstar."
Laster argues for a stay on this case, saying: "The Amazon Litigation is further along than this case. The parties to the Amazon Litigation are engaged in discovery, and IPI Partners is participating as a non-party.
"It is inefficient for the Amazon Litigation and this litigation to run concurrently. The Amazon Litigation is likely to provide clarity on pivotal issues. In any event, the discovery and trial record from the Amazon Litigation can be used to streamline this proceeding."
Northstar and IPI have thirty days to give any reasons not to stay this case, and wait for results of the main event - the Amazon litigation.
Update August 30: Northstar CEO Brian Watson this week was separately charged with securities fraud by the SEC. It is unclear if those charges relate to the Amazon/IPI projects.