Intel is seeking some 7,000 construction workers to help build its $20 billion semiconductor fab in Columbus, Ohio.
But the scale of the project is straining a job market that is already suffering from a national skills shortage.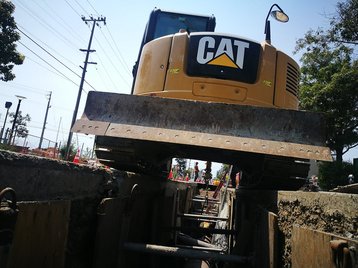 The company recently broke ground on the 1,000-acre site, with a plan to launch two fabs in 2025. The chip factories will employ around 3,000 people.
Before it can launch, it will need to hire around 7,000 construction workers. But it will have to compete with other projects, including a 28-story Hilton near downtown Columbus, a $2 billion addition to The Ohio State University's medical center, and a $365m Amgen biomanufacturing plant, the Associated Press notes.
There are also upcoming data centers from Google and Amazon, as well as a $200m municipal court house. In addition, VanTrust Real Estate plans to build a 500-acre (200-hectare) business park next to Intel's fab to house its suppliers.
On top of all that, planned solar projects could themselves require nearly 6,000 construction jobs.
Labor leaders and state officials admitted to the AP that there's not currently a pool of 7,000 extra workers in central Ohio.
But the company is drawing in contractors from all over the country.
"This project reverberated nationwide," Michael Engbert, an Ohio-based official with the Laborers' International Union of North America, told AP.
"We don't field calls every day from members hundreds or thousands of miles away asking about transferring into Columbus, Ohio," he said. "It's because they know Intel is coming."
The fabs are supported by around $2 billion in state funding, and seek billions more from the recently-passed CHIPS Act. Intel hopes to expand the site in multiple phases, making it "the largest silicon manufacturing location on the planet."
More in IT Hardware & Semiconductors
More in Workforce & Skills