IBM is suing chipmaker GlobalFoundries over its decision to drop the development of 7nm process node technologies back in 2018.
The company seeks $2.5bn in damages. GlobalFoundries - which is preparing to launch an IPO - hit back, saying that IBM was just in search of a "quick payday."
IBM and GF go through a bad break up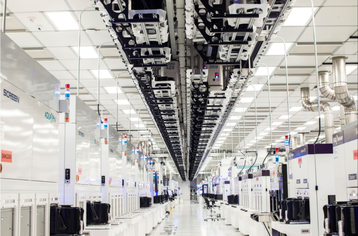 In 2015, IBM and GlobalFoundries signed a long-term partnership to research, develop, and manufacture semiconductor chips for IBM's mainframes and server line.
As part of the deal, IBM paid GlobalFoundries $1.5bn to take over its loss-making chip business. In return, GF said that it would become IBM's sole chip supplier for the next decade.
In redacted court filings, IBM claims that GF agreed to use the $1.5bn to develop high performance 14nm and 10nm chips, an area it had previously little experience in. "GF, in turn, invested far more than this amount," the chipmaker countered in a response filed to court.
At this point, the two companies' narratives diverge. IBM claims that within months GF "intentionally betrayed" this partnership, and announced it would not develop or supply 10nm chips for IBM (or anyone else).
GF claims that the two companies "mutually agreed" to skip 10nm in favor of 7nm.
The company adds: "However, despite the billions of dollars that GF invested in the Business and the 7nm technology, given the technical complexity and enormous financial cost, GF was unable to complete the 7nm technology according to the Parties' desired timeline. Given the delay, the availability of 7nm technology from other suppliers, and the billions of dollars in additional investment that would have been required to bring the 7nm technology into production, GF opted not to place itself in serious financial stress through the continued pursuit of a failing strategy and accordingly ceased developing 7nm technology."
GF says it told IBM that it would drop 7nm development in August 2018, and that IBM quickly moved to Samsung. This proved cheaper and meant IBM could sell 7nm faster than if GF had continued to try to develop it. "IBM actually benefitted from GF's decision to cease working on 7nm technology," GF said.
IBM has a different take on the situation. It claims that GF waited until the final tranche of the $1.5bn was handed over in December 2017 until it suddenly dropped 7nm efforts.
"Once again, GlobalFoundries had no explanation for deliberately backtracking on its representations and breaching the parties' agreements - other than its own arrogance and greed," IBM lawyers said.
"Having taken the $1.5 billion and extracted the benefits of the best-in-class technology, engineers, and intellectual property from IBM, GlobalFoundries revealed that its representations about being committed to High-Performance technology were false. GlobalFoundries misled IBM in order to acquire IBM's semiconductor business and form an ostensibly mutually beneficial alliance, which GlobalFoundries then deliberately and dishonorably discarded when it suited GlobalFoundries' purposes."
GF also made a profit from selling off bits it had acquired from IBM, including 300 acres of land and two million square feet of building for an unknown amount, as well as its East Fishkill fab to ON Semiconductor for $430 million. In 2019, it sold its ASIC business to Marvell for $650m, and other IP and operations at its Essex Junction fab for an undisclosed sum.
The suit adds: "Now that GlobalFoundries has been caught in its lies and deceptions, it is time for it to make amends." The company wants its $1.5bn back, plus damages.
This is all very suspicious timing, GlobalFoundries retorted. After years of no complaints, the lawsuit comes just after it was revealed GF is planning an initial public offering.
"IBM sensed an opportunity to interfere with the rumored GF IPO transaction by sending the letter with an amount outrageously high enough that, by IBM's calculations, would certainly need to be disclosed in GF's prospectus unless, as IBM hoped, the matter could be resolved quickly via a settlement payment made by GF."
GF said that IBM was just looking for a "quick payday" with "a misguided and ill-conceived effort" that was "incredibly inconsiderate of current events, namely a global chip shortage fueled by a pandemic that has impacted important domestic industries, including the automotive sector."
The lawsuit was filed this week with the New York Supreme Court.