Data center operator HostDime has broken ground on a new facility in Colombia's capital, Bogotá, which it plans to have certified to Uptime Tier IV reliability.
The 65,000 sq ft (6,000 sq m) data center, in an industrial park in Tocancipá, North Bogotá, will be patrolled by armed guards. The $20m to $23m facility will be built in four phases, and will eventually have around 50,000 sq ft (4,600 sq m) of usable IT data center space, and be able to hold around 80,000 physical servers and appliances.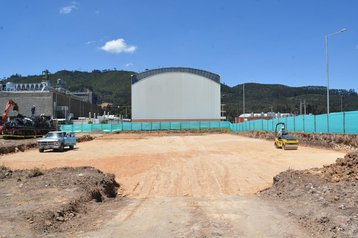 Uptime on the way
The facility does not yet exist, and is not on the Uptime Institute's list of certified facilities, but the Uptime Institute and HostDime have confirmed that it has begun the process of certification. The design documents for the entire facility have been certified, DCD understands. The current agreement then specifies that Phase 1, due to be completed by the end of 2020, will be certified for construction and operational sustainability.
The power infrastructure will allow up to 10kW per rack. For redundancy, five 1.2MW generators will operate with one of the generators being on standby. Hot and cold aisle containment will be pre-installed on all data halls to efficiently cool the servers.
All facility systems are expected to be completed by 2021.
Manny Vivar, CEO of HostDime Global, said: "Our vision to be a leader in the global data center industry continues to drive us to build these mission-critical facilities in unique, global edge locations. The world is noticing that being on the edge of global locations is the next frontier."
The design also includes a number of private suites, colocation space, private locking colocation racks, and an entire floor for cloud-based products. The will feature A/B dual "meet me" and network rooms to ensure no points of failure. CenturyLink, Globnet, BT, and Internexa have made commitments for the necessary connections.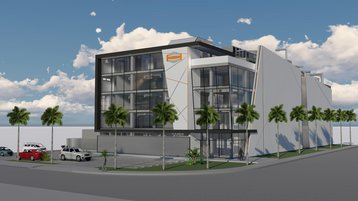 South American investments and delays
Hostdime, based in Florida, has now restarted construction on a $25m data center in Orlando, which had suffered delays. Construction began on the 90,000 sq ft (8,000 sq m) data center in 2016 but HostDime paused it in 2017, to focus on a 20,000 sq ft (1,800 sq m) facility in João Pessoa, Brazil.
This Brazilian data center was officially opened later that year. The delayed Orlando facility is now expected to be online sometime in 2020.
Manny Vivar, HostDime CEO, said: "We were taking on too much in too little time, so our engineering team had us focus on finishing that. When we tried to get updated bids, it seems like every construction company in Orlando was busy so it literally increased the project cost by 30 percent. The bottom line is this - nothing has changed, it just obviously got delayed, we have a lot of money invested in the project."