Green Cubes Technology, which makes lithium-ion batteries for data centers, has joined a Swiss project aiming to create a circular economy for batteries.
CircuBAT, which publicly launched on 31 March, is a research program bringing together 24 companies and seven research institutes, aiming to see that lithium-ion batteries have a longer lifespan, and more opportunities for reuse, repair, and recycling. The initiative is starting with schemes to reuse electric vehicle batteries in stationary applications.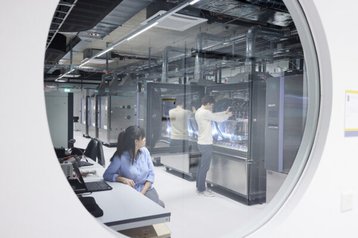 What goes around...
The CircuBAT project is led by Bern University of Applied Sciences Technology as a flagship project of Innosuisse, the Swiss research agency. Another six research institutions are involved, including Empa, the Swiss Center for Electronics and Microtechnology (CSEM), the University of St. Gallen (HSG), the Eastern Switzerland University of Applied Sciences (OST), the Switzerland Innovation Park Biel / Bienne (SIPBB), and the EPFL (Swiss Federal Institute of Technology). Green Cubes is one of 24 commercial companies involved.
Green Cubes is a US-based company, originally making batteries for forklift trucks, which has set up a European operation in Switzerland, and launched products for data centers and telecoms. It has invested money in the project, and will also contribute first-use lithium-ion batteries for experimentation and testing within the program, as well as joining work to develop new more efficient batteries.
The company will get involved in the "First Use" group, providing data from its batteries deployed in the field, to help extend the life of first-use batteries. It will also join the "Second Life" group, which aims to create second-life uses for lithium-ion batteries, reducing the total lifecycle footprint of the batteries.
The idea isn't new, and was first floated in Switzerland, eight years ago. In 2014, The EU-sponsored GreenDataNet project installed some used Nissan Leaf batteries in Eaton UPS systems at Credit Suisse data centers to provide backup. Eaton reprised the idea a year later at the Paris Climate Summit, COP21 - but it appears to have had no long-term impact.
In the US, General Motors tried using Chevrolet Volt batteries to back up its Michigan data center in 2015.
Green Cubes says it is working to minimize the environmental impact of its lithium-ion batteries - and expects to improve on this with a system of second-life batteries, where the installed base of first-use batteries is redeployed when they reach a certain age limit into less demanding second life applications "such as backup energy storage".
"We joined the CircuBAT research program because its mission is very well aligned with ours," said Keith Washington, CEO of Green Cubes Technology. "We all want the same thing and that is a circular economy for lithium-ion batteries. We are looking forward to sharing our experience, and giving electric mobility batteries a second life with our Swiss partners in the CircuBAT research program, as they strive to make Swiss eco-mobility as sustainable as possible."