General Motors (GM) is testing the use of electric vehicle (EV) batteries to contribute power to a data center in Milford, Michigan. The program uses five batteries from Chevrolet Volt cars, making use of the capacity they still have after they are no longer used on the road.  
While the Chevrolet Volt battery is warrantied for 8 years and 100,000 miles in automotive use, at the end of that stage in its life cycle up to 80 percent of its storage capacity remains, according to Pablo Valencia, GM senior manager, battery life cycle management. This means that once removed from cars, the used batteries can move onto their next stage of existence, in this case to be used for providing power for to help provide some very green power for the new data center at General Motors Milford Proving Ground..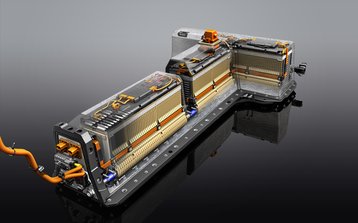 Battery life
Milford already has renewable energy input, from a 74kW solar array and a pair of 2 kW wind turbines. That is enough to power the office building and lights in a parking lot. However, it is often pointed out that renewable sources are often intermittent, and so will make more sense when coupled with local storage.
GM is testing the idea with five retired Chevrolet Volt batteries which provide power to the data center facility. The lithium-ion (Li-ion) batteries are 5.5 foot long, t-shaped, and weigh 435 lb (198 kg). They have active thermal control and each one contains 288 prismatic cells giving it the ability to provide 17.1 kWh of stored energy.
The five battery unit has a capacity of 85.5 kWh, which is a good match for the energy that can be provided by solar and wind sources. The energy stored will be used in the administration building.
The data center is one of two that GM is using to consolidate from 23 previously existing facilities. There are currently 130 applications running in the data center, with 15 older data centers already consolidated and shut down.
GM had previously demonstrated repurposed Volt batteries as an alternative power source for home use, collaborating with Duke Energy in a demonstration that showed how the repackaged batteries could be used for storing power when the rates are low and providing power when the demand and prices went up.
The project has been done using the current generation of Chevy Volt batteries. The 2016 Volt will introduce a 31 percent increase in driving range, presumably due in part to changes to the battery.
The idea of using electric car batteries in data centers has been suggested previously. The European GreenDataNet project, involving Nissan and Eaton, proposed the idea last year - but has not yet told us of a live test. 
Update: earlier versions of this story reported that the batteries were powering a "data center" at Milford, but various sources (below, for instance) now tell us the energy is going to the admin building there. We have asked GM for clarification.