Green Cubes, an established maker of lithium-ion batteries is planning a big expansion into digital infrastructure.
The US-based company, established in 1986, makes mobile batteries for markets including forklift trucks. Backed by new investment, it is expanding its US manufacturing and establishing new teams for development and manufacturing in Europe, with plans to launch "network power" products aimed at data centers later this year.
Did you miss our Net-Zero online event? It's available on-demand!
Charging into data centers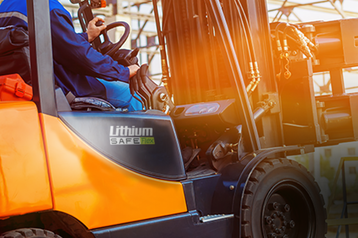 "We're standing up production in Europe, and developing products," Jeffrey VanZwol, chief marketing officer, told DCD. "When we develop solutions we try to facilitate migration from Old World power (lead acid and internal combustion) to New world Power. We feel the network power market is at the tipping point, with a high conversion rate to lithium-ion."
Green Cubes currently makes battery packs for forklift trucks, and for electric vehicles used in airports. It also makes battery-powered units for mobile medical terminals. In March 2020, the company had investment from JMC Capital Partners, and is using that money to expand its internal structure and develop new products, said VanZwol.
"Bloomberg predicts that by 2025, 40 percent of the data center market will use Li-ion batteries, and in hyperscale data centers penetration will be even higher, at 55 percent," he said. "In new infrastructure, Li-ion is an equal footing for speccing out new builds."
Green Cubes has hired thirty people in Europe, including an engineering team in Zurich, Switzerland, all of whom previously worked for Power-One, Bel Power, and ABB, said VanZwol: "The whole team has been in network power for over 10 years." The products they eventually launch will be in rack-mounted battery backup, but no details are currently available, he said.
The forklift batteries won't be standing still meanwhile: they will gain faster charging, embedded Internet of Things monitoring, and the ability to be charged wirelessly, said VanZwol.
Production facilities will be set up near Bratislava in Slovakia, where the data center products will be initially developed. The Slovakian operation will also make batteries from Green Cubes' existing lines for the European market. The company is also expanding its existing facility in Kokomo Indiana, with 36,000 sq ft of new manufacturing space.
VanZwol said the factory will be up and running by the end of Q2, which should be in time to deliver the network power products, which are due in mid-2021.