Power management company Eaton has teamed up with car maker Nissan fo offer a battery-backed UPS system that can smooth power demand and allow premises to become more independent of the grid. 
The two companies have combined an Eaton 93PM UPS with up to four reused ("second life) lithium-ion batteies from a Nissan Leaf car. This can store and deliver up to 20kWh of energy for each battery. During a launch event at the COP21 Climate Summit in Paris, Nissan switched the electric light and other systems at its pavilion over to a Leaf battery and an Eaton UPS.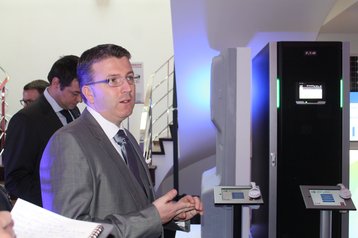 Peak shaving 
The two companies are still developing the use cases for the system, which evolved from their collaboration in the EU GreenDataNet project. Nissan's Leaf is the biggest selling electric car in the world,  with nearly 200,000 sold since it launched in 2010. Each one has a 24kWh battery, which will reach the end of its first life after around five years. At this stage, it has about 80 percent of its charge-carrying capacity, so it can deliver about 20kWh for less demanding applications. and the Eaton-Nissan offering can hold 80kWh.
"This solution is suitable for IT rooms or small data centers," said Fabrice Roudet, program manager for data center automation  solutions at Eaton. The UPS is a double-conversion system, and a solar installation or other renewable source can be connected to its DC bus directly, without having to convert from DC to AC and back.
Because it combines power electronics,control software, stationary storage and renewable energy in one package, it can  be used for "peak-shaving", ie reducing peak demand on the grid by shifting to battery power when demand is high. Other possible applications include providing power in the developing world, in areas where the grid is poor or non-existent. 
The cost of the unit will be around €10,000 for the UPS, and perhaps $400 to $500 per kWh of storage capacity, said  Roudet, By assuring a second life market, the scheme would also ensure a better trade-in value for Leaf cars, given that the battery should be still worth €1000 even when it can no longer perform well enough to run a car. 
"The batteries as power units far outlast the typical life of a car," said Robert Lujan, electric vehicle director at Nissan Global:.Nissan makes its own batteries from sheets in three factories, including one in Sunderland UK, using sheets of raw material produced in the Far East..  The 2016 version of the Leaf will have a larger battery, which has 30kWh capacity when installed.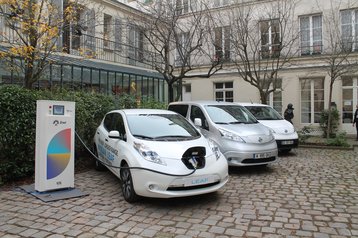 Spreading renewables
 "These systems will really facilitate the wider adoption and deployment of renewable generation; giving people greater control over their energy supply and consumption," said Cyrille Brisson, vice president of marketing, for Eaton's EMEA electrical business."Over 3 billion people rely on polluting and inefficient cooking, lighting, and heating methods that are expensive and have serious health impacts. Enabling the delivery of cleaner, more affordable energy to these people, including the 1.2 billion people who have no access to electricity at all, will really make a difference." .
for consumers, Nissan also announced a "financially irresitstible2 offer to get more use out of their batteries during their life in the car. A system to be sold by energy provider Enel will allow domestic peak-shaving for customers with a Leaf plugged in at home (pictured above). During peak demand it can use the energy stored in the car's battery to reduce the home's demand.