Greek telco Lancom is to build a data center on the Greek island of Crete.
The company has spun its Balkan Gate data center in a separate unit, which announced this week it will build a 'Tier III quality' facility on the island.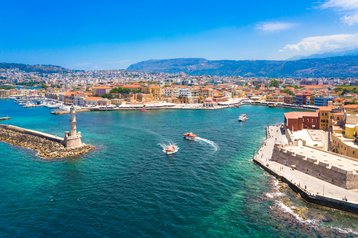 Details around specifications, location, investment amount, or timeline weren't shared. An image posted on the company's LinkedIn suggests the facility – to be known as Balkan Gate Crete – may be located in Heraklion.
This will be Lancom/Balkan Gate's fourth data center. Founded in 2009 by George Nolis, Lancom opened its first data center in Thessaloniki, Northern Greece, followed by a second facility in Athens in 2014.
The company's new Balkan Gate facility in the Kalochori area of Thessaloniki is reportedly the largest carrier neutral data center in Northern Greece; it has an initial building spanning 2,500 square meters (26,900 sq ft) and capacity for up to 500 racks, with a planned expansion of up to 10,000 sqm (107,600 sq ft).
"After the Balkan Gate in Kalochori, Thessaloniki, the Balkan Gate Crete was the next logical step to complete the Thessaloniki – Athens – Crete axis, which will be the new telecommunications route in the wider region of the Balkans and the Southeastern Mediterranean," said Lancom CEO Nolis. "Thus, we are creating a completely new, optimal transit from the Middle East, Northeast Africa, and the remote regions of Asia to Central and Northeastern Europe. In this way, we put an end to the current regime of submarine fiber optics, which simply passed our country and redefine our position on the world telecommunications map."
This is the second announcement around Crete this month. Grid Telecom recently said it plans to build a new cable landing station on the southern coast of the Greek island to anchor new international subsea cable systems crossing the eastern Mediterranean. The company has inked a memorandum of understanding with Cinturion to be its landing partner in Greece for the upcoming Trans Europe Asia System (TEAS) cable, which will run from India to the Mediterranean. The 300 Tbps cable is due live in Q3 2023.
More in Construction & Site Selection