Greek telco Grid Telecom is to build a cable landing station (CLS) in Crete.
The company this week announced its plan to build a new CLS on the southern coast of the Greek island. Details on precise location, specifications, or timelines were not shared.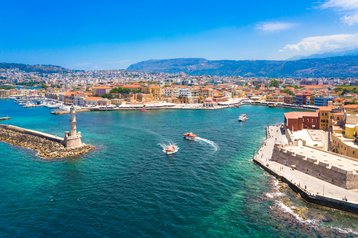 The new facility will anchor new international subsea cable systems crossing the eastern Mediterranean; the company will also develop a backhaul network to existing and new data centers on the island of Crete, the Greek mainland, as well as in neighbouring countries.
George Psyrris, Director of Grid Telecom said: "We are continually looking for ways to strategically expand our services to partners and customers. In this framework, our plans to build a new Cable Landing Station in Crete, will significantly support the implementation of new, international alternative routes. Moreover, it will enhance the strategic role of Crete as a crucial open access interconnection node in the Eastern Mediterranean and the Balkans."
Earlier this month, Grid Telecom inked a memorandum of understanding with Cinturion to be its landing partner in Greece for the upcoming Trans Europe Asia System (TEAS) cable, which will run from India to the Mediterranean. The 300 Tbps cable is due live in Q3 2023.
"The partnership with Grid Telecom and Cinturion will provide the most advanced, secure, and innovative technologies to Southeast Europe through Greece, addressing the rising global demand for high-quality international bandwidth," said Bill Marra, chief commercial officer of Cinturion.
Established in January 2019, Grid Telecom is a wholly-owned subsidiary of the Independent Power Transmission Operator (IPTO) of Greece – Transmission System Operator for the Hellenic Electricity Transmission System – and provides telecommunications services.
Crete has a number of landing points on the island, and is currently or due to be connected to upto nine cables in the coming years. On the south side of the island, the Medusa and India Europe Xpress (IEX) cables are due to land at Tympaki.
More in Construction & Site Selection