Google is set to land its Firmina subsea cable outside Buenos Aires in Argentina this week.
First announced in June 2021, the 13,500 km Subcom-made cable is to run from Myrtle Beach in South Carolina to Las Toninas, Argentina. The cable also has landing points in Praia Grande, Brazil, and Punta del Este, Uruguay.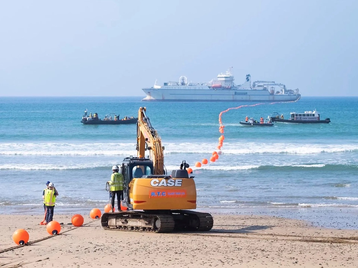 Argentina's Professional Council of Telecommunications, Electronics and Computing Engineering (COPITEC) this week announced that the cable was set to land on the shores of Buenos Aires on August 16.
The 12-fiber pair cable is being carried by the cable ship CS Durable.
Google has said the cable will be the longest ever to feature single-end power feeding capability; this is achieved by supplying the cable with a voltage 20 percent higher than with previous systems.
In the US, the cable is set to land at DC Blox's new cable landing station and data center. Industry observer Philippe Devaux noted cable deployment work off the coast of South Carolina took place towards the end of July.
Google already operates the Tannat cable in partnership with Antel Uruguay to connect the same locations, the Curie cable connecting California to Chile, and the Monet cable connecting the US to Brazil. Within Brazil, it also operates the Junior system, which connects Rio de Janeiro to Santos.
In South America, Google currently operates a Cloud Region in São Paulo, Brazil, and another in Santiago, Chile. It has also bought land for a future facility in Uruguay.
The cable is named after Maria Firmina dos Reis, a Brazilian abolitionist and author.