Google will fund the construction of a new submarine cable connecting the East Coast of the US to Las Toninas, Argentina.
Set to be built and deployed by SubCom, Firmina will also land in Praia Grande, Brazil, and Punta del Este, Uruguay.
The cable is named after Brazilian abolitionist and author Maria Firmina dos Reis.
Google's cabling ambitions continue to grow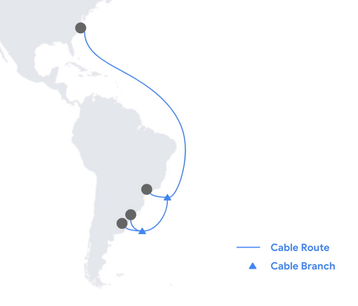 "The 12 fiber pair cable is the longest submarine cable to feature single-end power feeding capability, which improves its reliability," Google Cloud global networking VP Bikash Koley explained. "With submarine cables, data travels as pulses of light inside the cable's optical fibers. That light signal is amplified every 100km with a high-voltage electrical current supplied at landing stations in each country.
"While shorter cable systems can enjoy the higher availability of power feeding from a single end, longer cables with large fiber-pair counts make this harder to do. Firmina breaks this barrier - connecting North to South America, the cable will be the longest ever to feature single-end power feeding capability. Achieving this record-breaking, highly-resilient design is accomplished by supplying the cable with a voltage 20 percent higher than with previous systems."
Google already operates the Tannat cable in partnership with Antel Uruguay to connect the same locations, the Curie cable connecting California to Chile, and the Monet cable connecting the US to Brazil.
Within Brazil, it also operates the Junior system, which connects Rio de Janeiro to Santos.
By adding Firmina to its portfolio, the company hopes to increase both capacity and add another layer of resiliency.
It currently operates a Cloud Region in São Paulo, Brazil, and is building another in Santiago, Chile. It has also bought land for a future facility in Uruguay.