Google has signed a new Power Purchase Agreement (PPA) with Danish energy company Ørsted to purchase renewable energy from a wind farm in Texas.
The companies this week announced a 15-year deal that will see the search and ads giant procure energy generated by the Helena Wind Farm in Bee County, Texas.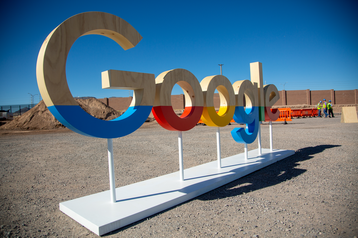 "Building a 24/7 carbon-free energy portfolio requires us to blend various resources to optimize for hourly production, and that's exactly what this project helps us [to] accomplish," said Sana Ouji, energy lead at Google. "We're excited to continue our partnership with Ørsted and add this wind project to our existing solar portfolio in ERCOT as we serve customers out of our Dallas cloud region."
Commissioned in 2022, the Helena Wind Farm is a 268MW onshore wind farm located in Pawnee, Texas. It is co-located with a 250MW solar farm and features 66 Vestas turbines over some 15,000 acres.
"As a trusted partner in providing clean energy solutions for our customers, we're proud to support Google's decarbonization goals on both a regional and global scale," says Monica Testa, head of origination at Ørsted Americas. "Google's leadership in the investment of renewable energy and commitment to advancing 24/7 carbon-free energy by 2030 sets a strong example for companies across the globe and we look forward to helping them achieve that ambition."
While Google currently purchases 100 percent of its energy through renewable contracts and offsets, it plans to supply all of its data centers with 24/7 carbon-free energy by 2030.
The deal is the second between the two companies and the first in the US. In late 2021, Google signed a PPA with Ørsted to procure 50MW of the 900MW Borkum Riffgrund 3 Offshore Wind Farm in the German North Sea.
Ørsted has also signed PPAs with Amazon and Microsoft, with the latter also including a carbon capture agreement.
Google launched a Texas cloud region in Dallas in June 2022. It acquired 375 acres in the Midlothian area southwest of Dallas in 2018 under the name 'Sharka.' The company previously signed a 942MW solar PPA with SB Energy to procure energy from four solar farms in development in the state.