Microsoft has signed a Power Purchase Agreement (PPA) with Ørsted to purchase energy from a solar farm in Texas.
The tech giant will buy power from the energy company's 430MW solar energy center Old 300 in Fort Bend County, which is expected to come online in Q2 2022.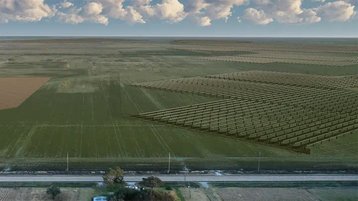 Some reports suggest Microsoft is buying the entire output of the farm, but details of how much power or how much the company is investing into the agreement haven't been disclosed.
"Microsoft has ambitious sustainability objectives for their Scope 1, 2, & 3 emissions, and we're thrilled to support their targets," said Vishal Kapadia, SVP and chief commercial officer in Ørsted Onshore. "Given the strong alignment in focus on emission reductions between our two organizations, I'm excited about our continued collaboration."
Located on approximately 2,800 acres of privately owned land near the City of Needville in Fort Bend County, the $400 million project is named in honor of the 300 families and partnerships who received land grants in Stephen F. Austin's first colony in Texas during the 1820s.
Construction began on the solar farm in February alongside Blattner Energy and Bradly Construction Management. Once operational, the project will provide low-cost electricity during peak demand periods to the Houston ERCOT service territory.
Adrian Anderson, Senior Director of Renewable Energy at Microsoft, added: "On our journey to 100 percent renewable energy, we recognize that innovation and collaboration are fundamental in how we fight against climate change. We're grateful for our collaboration with Ørsted to deliver renewable energy in ERCOT and look forward to continued progress towards a net-zero carbon future."
Microsoft opened its South Central US Azure cloud region in Texas in 2008. The company has a number of data centers in and around San Antonio and has filed applications to build four more this year.
AWS is also looking to expand into the city; the company has filed plans to build three data centers in San Antonio under the project name 'Blackfish' that are due for completion at the end of 2021.