Three Amazon data centers are in development in Texas, suggesting a new cloud region could be on the way.
The facilities were revealed in a number of planning documents, under the project name 'Rockfish.'
Amazon acquired the industrial portion of a southeast San Antiono site from local development firm Bitterblue in October 2020 as Rockfish, according to a deed filed with Bexar County. The company plans to build a $56 million, 109,600 square foot (10,100 sq m) data center on 11625 Old Corpus Christi Highway and due for completion at the end of 2021.
As well as the Corpus Christi Highway site, AWS has filed further construction projects in the San Antonio area under the 'AWS Rockfish' moniker. The company has a 109,600 sq ft "Core and shell (warehouse) for future data center fit-out" project at 7400 Potranco Road, TX 78251, at a cost of $31 million, and another 109,600 sq ft "new construction and new fit-out of a data center" project at TX-211 & Potranco Road, TX 78245, requiring $55.9 million investment. All three have the same listed completion date, and have Gensler listed as the design firm.
For breaking data center news, features, and opinions, subscribe to DCD's newsletter
Is a new AWS Texas region coming?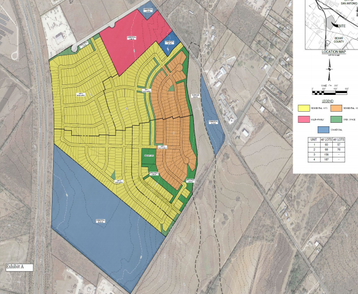 AWS regions normally come in groups of three data centers – known as availability zones – but AWS hasn't made any public announcements on the matter. The company currently has Texas CloudFront Edge locations in Dallas/Fort Worth and Houston, but no dedicated data centers or region in the state.
Last year an AWS spokesperson told the San Antonio Express that "Amazon has a practice against commenting on our future roadmap" when asked about its plans in the city. DCD has reached out to AWS for comment.
The Corpus Christi facility is also set to get neighbors. Bitterblue is aiming to develop more than 200 vacant acres adjacent to the facility into a mix of housing, retail, and industrial space. A proposal of 637 single-family lots on 120 acres and 340 multi-family units on 15 acres, according to a presentation this week to the city's Planning and Land Development Committee.
There would also be eight acres for retail, 18 acres for open space and drainage, and 50 acres for industrial space for a data center.