Amazon has signed two new Power Purchase Agreements (PPAs) with Danish energy provider Ørsted.
The two companies this week signed corporate PPAs totaling 116MW of capacity across onshore and offshore wind.
Amazon will take 100MW from Ørsted's 900MW Borkum Riffgrund 3 Offshore Wind Farm in Germany, as well as the output of the 16MW Ballykeel Onshore Wind Farm in Northern Ireland.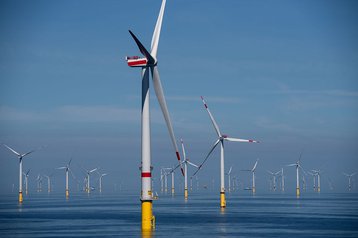 The German PPA is in addition to the 250MW PPA the two companies previously signed in December 2020, meaning that Amazon will offtake a total of 350MW from Borkum Riffgrund 3 once it enters commercial operation, expected in 2025.
The news follows yesterday's announcement that Google had signed a 50MW PPA renewable energy deal with Ørsted to draw from Borkum Riffgrund 3.
"We're very pleased to once again partner with Amazon on securing additional renewable energy for the green transformation. The CPPAs on Borkum Riffgrund 3 and Ballykeel once again show Ørsted's position as a green energy major that can help large corporations deliver on their climate ambitions across geographies and technologies," said Rasmus Errboe, head of Region Continental Europe at Ørsted.
"We're moving quickly on our path to power operations with 100 percent renewable energy by 2025 – five years earlier than our original target. The new agreements with Ørsted are an important step on this journey," added Ralf Kleber, country manager of Amazon in Germany
Ørsted and Amazon have signed three PPAs; the company is also offtaking the full capacity of the 253MW Amazon Onshore Wind Farm Texas in Scurry County, Texas.
More in Cloud & Hyperscale