Two provinces and two cities in China have included underwater data centers in their five-year plans, as a means to reduce emissions.
This marks a boost for the technology, which has been demonstrated by Highlander, and which is being developed commercially in Hainan Port. The coastal authorities backing underwater data centers, which can operate more efficiently, using seawater for cooling, and potentially powered by local renewable energy.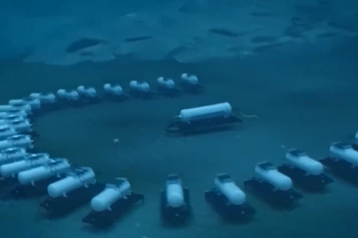 Everyone looks to Hainan
The underwater data center concept was pioneered by Microsoft with its Project Natick which operated a 12-rack data center in a pressure vessel on the seabed off the coast of Scotland for two years until 2020.
China's Highlander launched a similar test project earlier this year holding four racks, and has since moved onto a commercial-scale project which will extend to a plan for a data center consisting of 100 such pressure vessels off the coast of Hainan Free Port, and powered with low-carbon energy from a local nuclear power station.
In May, the city of Hainan announced that this 100-module data center was included in its five year plan - the instrument by which every part of the Chinese state is organized.
In 2021, China has published the fifteenth national Five Year Plan since the People's Republic was founded in 1949. Every city and province has to produce its own five year plan, to cover the years 2021 to 2025, before the end of 2021.
Since the announcement of the Hainan project, the province of Hainan has included the project in its five-year plan, alongside plans for special corridors to allow submarine cables such as the Hainan-Hong Kong International Submarine Cable Project. Hainan is also proposing to provide 4G and 5G coverage in the South China Sea, using shore-based, island-reef, and ship-borne communications towers. Alongside this, it wants to improve satellite broadband service.
To build the submarine data center, Hainan will build shore stations, subsea high-voltage composite cables, subsea sub-power stations and subsea data cabins. The 100 data "cabins" described by the Port's plan are just the "first phase" and Hainan says it will gradually build "a comprehensive marine new technology industrial park with a submarine data center as the core."
To back work in the South China Sea, Hainan will also build a real-time 3D database and a data center to handle the background data of the South China Sea and support deep sea development and "South China Sea rights maintenance" (China's claim to the South China Sea is disputed).
Shandong, Xiamen, and Shenzhen follow
Shandong, a province further North is following suit with a promise to develop a "smart marine industry," with a similar 3D observation network, and much infrastructure including foreign communication networks, and optical fiber cables, as well as high-tech equipment such as "measuring robots, unmanned observation boats, manned submersibles, and deep-water gliders."
The Shandong five year plan is less specific about the size, but includes a goal to build submarine data centers.
Meanwhile, two other Chinese coastal cities, Xiamen and Shenzhen, have also included underwater data centers in their plans.
The move is likely to legitimize the idea of sea-bed water-cooled facilities, and may engender local competitors to Highlander, who may offer very similar projects, as intellectual property rights are less rigorously policed in China.
For that reason, Highlander may also be having a call from Microsoft at some point in the future. Microsoft recently included many aspects of its underwater data center project in a raft of patents that have been opened for free use, however, the Highlander prototype is very similar to the Natick design used by Microsoft
Underwater data centers may yet appear in other five year plans, as other provinces and cities are due to publish their plans. Perhaps more importantly, individual National ministries handling industry and information have also yet to publish their plans, and these could include direct guidance on data center technologies such as cooling.