Beijing Highlander, a Chinese marine specialist, has unveiled an underwater data center at Zhuhai, a port in Guangdong.
The airtight pressure vessel will hold racks of servers will be powered by a composite cable from shore which will also connect it to the Internet, and will be cooled by the sea water. It is part of a project to install underwater data centers connected to the coast of China, beginning with a pilot project for the giant free port planned on the island of Hainan, according to details revealed earlier by Highlander.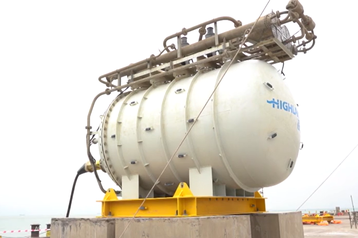 Reducing energy demands
"The biggest bottleneck to data center development is energy consumption. It consumes too much power and cannot be halted for a second. Seawater can be used to reduce energy consumption by about 30 percent," said a report on China News Service, quoting Xu Tan, vice president of Highlander. According to the site, she said a data center with an annual economic volume of 300 billion yuan ($46 billion) was vital to new infrastructure.
Highlander claims it plans to build a series of undersea data center projects over the next five years, in coastal waters including the Hainan Free Trade Port, the Guangdong-Hong Kong-Macao Greater Bay Area, the Yangtze River Delta, and the Bohai Rim Economic Circle. It is currently involved in site selection cable installation and commissioning for a test which will run from June 2021 to May 2022. At that point, it will be promoted to governments, scientific research institutions, and financial institutions, and fully commercialized in the second half of 2023, according to a report on Zaotech.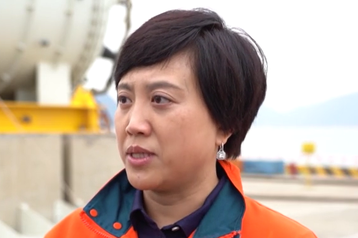 Underwater data centers can deliver capacity without using valuable land, can be energy efficient thanks to the cool water of the sea, and can be positioned close to human populations, which are large centered on the world's coasts. The concept was pioneered by Microsoft's Project Natick, which ran a 12-rack data center for two years, in waters off the coast of Scotland.
Natick found that equipment left unattended in the nitrogen atmosphere of Natick was eight times more reliable than servers running in a conventional data center on land.
The Highlander vessel on CNS appears to hold four racks, and the company also promises a factor of eight improvement in reliability. The article promises that shore-based power may be supplemented by offshore renewable energies like wind, solar and tidal power, and the facility should provide low cost, low latency, high reliability, and safety - while being easy to mass-produce and install.
In August, Highlander announced a plan to build underwater data centers as part of the development of the Hainan Free Trade Port (FTP). The Hainan FTP plans to turn the entire 35,000 sq km island of Hainan in the South China Sea into China's largest special economic zone, with a zero-tariff policy on goods, and a special focus on tourism and the high-tech sector. It has been personally planned and promoted by China's General Secretary Xi Jinping, according to a speech by Dong Xuegeng, Secretary of the Party Committee and Director of the Hainan Provincial Big Data Administration.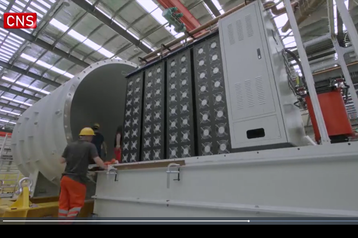 The FTP will have a big need for data centers, and its tropical climate could be a drawback. Large data centers operate best in low temperatures, and Hainan is 19 degrees North of the equator, with low-lying land and high temperatures. Land-based data centers would consume a lot of energy in cooling, while the local water temperature is around 24°C (75.2°F), which is perfectly adequate for data center cooling.
"How to build a large-scale data center and undertake the intersection of information flow? The construction of a free trade port has given us important responsibilities, and we must solve this problem," said Dong Xuegeng, reported Zaotech.
For the Hainan project, Highlander has signed up with partners China Mobile Lenovo, China Communications Service Construction and Qi'anxin Technology Group.
The August event also heard from Ni Guangnan, an academician of the Chinese Academy of Sciences, and Professor Yang Qi, Dean of Shanghai Jiaotong University of Science and Technology, as well as executives from Yunda Institute, Lenovo, and China Mobile.
Highlander has previously worked on projects including ship automation, navigation, and telemetry.
DCD has made concact with Highlander and hopes to bring more information on the project soon.