Flexential is developing another data center outside Portland, Oregon. It will be developing two new buildings in partnership with T5.
The company this week announced its latest data center development at its campus in Hillsboro. Flexential said the project is adjacent to its Hillsboro 3 facility at 5419 NE Starr Blvd and will deliver an additional 54MW of capacity.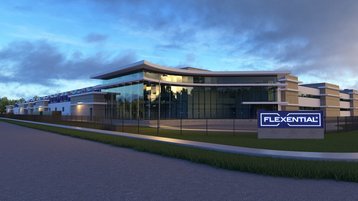 Flexential said it will 'leverage an existing 138,000 square foot (12,800 sqm) data center to rapidly deliver' its fourth data center in Hillsboro, and also plans to construct an additional facility as part of the new campus development.
Update: T5 has announced a long-term lease and build-to-suit project with Flexential. T5 Construction Services will provide development and construction services to deliver an initial 138,000 sq ft, 18 MW data center and a subsequent 358,000 sq ft, 36MW facility, provided in a fully customized, turnkey manner.
"Flexential's expansion within our Hillsboro data center campus aligns perfectly with T5's commitment to sustainability and customer service," said Pete Marin, CEO of T5 Data Centers. "T5's Development and Construction Services team has already engaged and is working closely with Flexential to deliver 500,000 sq ft and 54MW of industry-leading quality and performance that will support the needs of their customers and our environment."
T5's T5@Portland site, located on the opposite side of the road to Flexential's Hillsboro 3 at 4915 NE Starr Blvd, is listed on the company's site as a '55MW, 400,000 sq ft (37,150 sqm) data center building with 100,000 sq ft (9,300 sqm) available now'.
"When Flexential made the decision to expand our Hillsboro footprint, partnering with T5 was the natural next step as we value their commitment to quality, customer service and providing customized industry solutions to a dynamic space," said Ryan Mallory, Chief Operating Officer, Flexential. "Both companies have a long-established presence in the Portland market, and we look forward to working together as we continue to bring esteemed data center projects and services to the region."
Original story resumes:
Following the expansion, Flexential said customers will have access to one of the largest scale data center footprints in Oregon, offering over 100 MW of actively deployed capacity.
"As the longest-standing data center provider in Hillsboro, we are committed to providing the most flexible connectivity and capacity options for our Pacific Northwest customers, backed by Flexential's industry-leading ability to offer a complete cloud portfolio to suit customers' unique needs," said Ryan Mallory, chief operating officer, Flexential. "It was a clear, necessary next step to expand our Hillsboro footprint as demand continues to increase in a region that offers a direct, fast connection to APAC. We look forward to the continued growth and success of this campus."
"We have partnered with Flexential since its initial project in 1999 in delivering cost-effective, reliable, and sustainable power to enable its customers to grow their digital infrastructure deployments in the Portland region," said Dain Nestel, director of growth and commercialization at Portland General Electric. "We're proud to support Flexential as they build out this next phase of their growth in Hillsboro."
In March of this year, Flexential announced plans to add 33MW of new data center development projects in 2022. This year has seen the company break ground on a new facility in Atlanta, Georgia, that will reach 22.5MW at full build-out, and announce plans to expand the power capacity at its Englewood data center in Denver, Colorado, by 4.5MW. It also announced plans for an 18MW, 120,000 square foot (11,150 sqm) facility in Raleigh, North Carolina.