US colocation provider Flexential has entered into a sale and leaseback deal with Legacy Investing LLC for Hillsboro 3 data center at its Hillsboro campus in Oregon.
The company says the partnership will allow Flexential to 'continue to invest in its core data center operations' while providing Legacy the 'opportunity to invest in and own the site, core, and shell' of the facility. Terms of the deal were not disclosed.
For breaking data center news, features, and opinions, subscribe to DCD's newsletter
Flexential sells but stays in flagship facility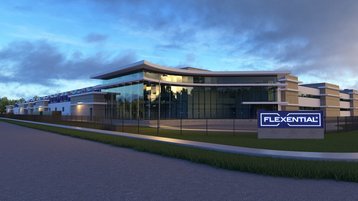 "We are proud to be partnering with Legacy Investing on our new, cutting edge Hillsboro data center," said Chris Downie, CEO, Flexential. "The completion of this facility will cement Flexential as a clear leader in this rapidly growing market, and the enthusiastic support of Legacy and its investment partner, Invesco Real Estate, a global real estate investment manager, speak to the value of the Flexential brand and its Hillsboro franchise."
Flexential began construction of the facility in October 2020. Located just outside of Portland, the facility will total 358,000 square feet (33,300 sq m) and support 36MW consisting of four separate halls, each with 60,000 sq ft (5,500 sq m) and 9MW capacity. The third facility on its Portland campus, Hillsboro 3 will be the company's largest data center to date.
"Flexential's already-dominant position in Hillsboro and the overwhelming demand for their offerings in this market made partnering with them a clear choice for us," said Jay Rappaport, CEO, Legacy Investing. "We are excited about the opportunity this partnership creates for both parties and look forward to seeing this ultramodern data center come to life."
Legacy Investing owns a number of data centers across the US, including Virginia, Georgia, Minnesota, and Ohio.