Flexential will begin the construction on a third data center on its Hillsboro campus in Oregon on October 1.
Located just outside of Portland, the Flexential Portland-Hillsboro 3 data center will total 358,000 square feet (33,300 sq m) and support 36MW.
Hillsboro 3's design consists of four separate halls, each with 60,000 sq ft (5,500 sq m) and 9MW capacity. Hillsboro 3 will offer 1,500 watts per square foot of power density and be powered entirely by renewable energy.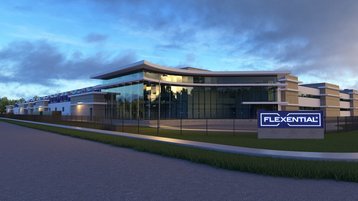 Northwestern Exposure
Announced back in May, the new facility will be the company's largest data center to date. A virtual groundbreaking is to be held on October 1 at 12:30 pm Pacific Time.
As part of the company's FlexAnywhere platform, the new data center will provide low-latency connections to around 40 major US cities. Via its link to Flexential's Hillsboro 2, the data center will have a connection to the Network Access Point (NAP) of the Northwest, which houses the New Cross Pacific subsea cable (NCP). The cable supports China Telecom, China Unicom, Chunghwa Telecom, China Mobile, and Korea Telecom.
Hillsboro 2 also connects to the Hawaiki Submarine Cable linking North America to American Samoa, Australia, New Zealand, and Hawaii.
Back in August, Flexential announced it was launching a 5MW expansion of Hillsboro 2. Following the project, Hillsboro 2's total square footage increased to 242,000 sq ft (22,000 sq m) and 18MW of capacity.
Hillsboro 3 is also close to Hillsboro 1, a data center that hosts the likes of AWS, Azure, Oracle, and Google Cloud. According to Flexential, the Oregon market is dense with cloud and colo companies, making it an ideal environment for intensive applications such as AI and machine learning.
The companies involved in the data center's construction are The Mulhern Group, KW Engineering, Sturgeon Electric, and Skanska.
Michael Silla, senior VP of data center design and construction at Flexential, said: "Together with our partners we are focusing on a customer-first approach for design and construction, working together to make sure Flexential's customers have the security, power, and resources they need to succeed when we open and for decades to come."