Microsoft has selected a construction partner for a new data center in Madrid.
This week Ferrovial announced that the company, through its subsidiary, Ferrovial Construcción, has been selected by Microsoft to carry out the construction of a data center the cloud company plans to launch in Spain.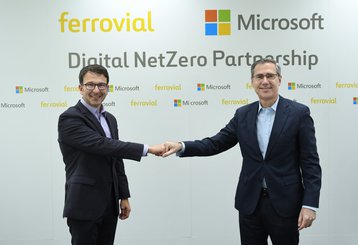 The facility will be constructed in the San Sebastian de los Reyes area of Madrid and will aim for LEED Gold certification.
Microsoft first announced plans for a Spanish Azure cloud region in Madrid in early 2020. At the time it said it would will leverage Telefónica infrastructure, while the telco would 'accelerate its use of Microsoft's cloud internally'.
Ferrovial said it has 'extensive experience' in data centers, having built facilities for Telefónica several financial companies.
Last year the two companies formed an agreement to co-develop digital solutions for the construction, infrastructure, and mobility industries.
The agreement would include work to digitize more of Ferrovial's operations – through Azure, naturally – and find ways to improve the construction efficiency of Microsoft data centers.
Cino Dias reports this is the first of three facilities in the Madrid area Microsoft is looking to develop – a standard practice for the company when it is looking to open a new Azure region with multiple availability zones. Facilities are also planned in the towns of Algete and Meco.
The size or timelines of the project haven't been shared, but CD reports Microsoft will be investing hundreds of millions of Euros into the facility.
"We continue to advance in the development of our cloud region in Spain (which will be available in the coming months) with the start of the construction of the data centers that will constitute the second phase of this project and that will facilitate the expansion of our region in the medium These new Data Centers will be built in Algete, Meco and San Sebastián de los Reyes , as we announced a few months ago", said Alberto Granados, president of Microsoft Spain.
Microsoft will be the last US cloud provider to launch a region in Spain. Google became the first hyperscaler to launch a Spanish region in May 2022 with a region in Madrid. Amazon launched an AWS cloud region in Aragon in November 2022. Oracle opened a Madrid region in September with plans for a second in the works.
Both Google and Oracle's regions were developed in partnership with Telefonica.
A version of this story appeared on our Spanish edition.