Google and Facebook have both this week acquired large tracts of land in Denmark for potential data center developments
Google has acquired 120,000 square meters (1.29 million sq ft) of land in Taulov, in Denmark's Fredericia municipality, while Facebook has bought 212 hectares in Andrup, in the Esbjer municipality.
Back in June 2017, Google acquired a 73.2 hectare (7.8 million sq ft) plot of land in Fredericia for $9.86m. It subsequently acquired another 131 acres in the municipality of Aabenraa to the south.
In 2018 Google finally announced plans to build a 4.5 billion Danish Kroner ($690m) data center in Fredericia. The data center went live in late 2020, but is not listed on its GCP infrastructure map, suggesting it is for Google's own use.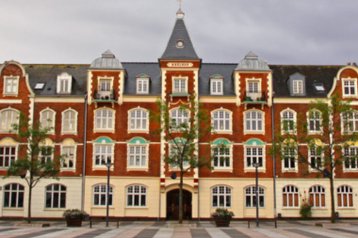 This week Fredericia City Council approved the sale of a business area of ​​just over 120,000 sqm to Google. The acquired area is a direct extension of the current data center in the Princess' Quarter in Taulov, and that a purchase right of an additional approximately 375,000 sqm (4 million sq ft) was also approved.
"We are proud and happy that Google has chosen to get involved in Fredericia. With the purchase of extra land, Google is buying into more options here in the future, and that is extremely positive. And of course a statement that Google wants Fredericia," said Mayor Steen Wrist.
Google has reportedly not outlined its plans for the land.
"We already have a really good relationship with Fredericia and are happy to be here and get involved in the city. With the purchase of extra land, we get the opportunity to expand our presence at a later date. Exactly how is still too early to say," said Google data center manager, Arni Jonsson.
Elsewhere in Denmark, Facebook has acquired 212 hectares of land in Andrup in Esbjer at a price of DKK 277 million ($43 million), the municipality said this week.
The municipality said the social network and advertising firm can start the initial planning and survey activities on the land for the future possibility of building a data center.
"I am very happy that Facebook is back in Esbjerg and now again investigating the possibilities of establishing a data center in Andrup," said Mayor Jesper Frost Rasmussen, Esbjerg municipality. "The signing of the purchase contract is just the first milestone in this process. The establishment of a data center will be completely in line with our ambitions to become a data hub, and at the same time the construction and operation of a new data center will be able to attract additional companies in the field to Esbjerg and create synergies with our current companies."
Facebook was reportedly in the process of investigating the area between 2018-19, but decided to stop the land acquisition and development of the project. Esbjerg City Council subsequently acquired the land as part of a strategy to attract investors and become a data hub.
"We recently resumed our studies of Esbjerg as a possible site for a future data center and bought 212 hectares of land," said Facebook spokesperson Lukasz Lindell. "In the coming months, some initial, preparatory work will be carried out, which will help to support the further development of the area. The construction of a data center does not start until a final investment decision has been made. We are also pleased to collaborate with such a good team in our studies of how Esbjerg can possibly support our business' future needs."
Facebook has a Danish data center in Odense that opened in 2019. Its other European facilities are located in Luleå, Sweden, and Clonee, Ireland. Apple also has a large Danish data center, in Viborg.
Google has facilities in Finland, Netherlands, Belgium, and Ireland. It offers GCP services from facilities in Poland, Finland, Germany, France, Switzerland, Belgium, and the UK. It recently bought a large plot of land and gained permission for data center in Horndal, Sweden.
Microsoft announced plans for a Danish Azure Cloud region in 2020.