The European Environment Agency (EEA) has moved into DigiPlex's Copenhagen colocation data center in Denmark.
Based in Copenhagen, the EEA provides independent environmental information and helps develop and implement environmental policies in the European Union.
Previously hosting its data and applications in an on-site data center at its HQ in the city, the EU agency has decided to colocate in DigiPlex's Copenhagen site rather than upgrade its own facility or move to the public cloud.
Register here for our upcoming virtual conference on energy system integration for data centers: DCD>Grid Scale
Environmental Agency opts against public cloud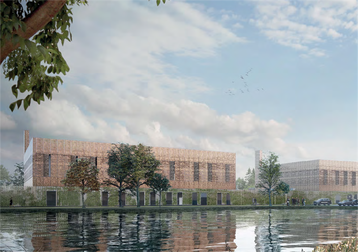 In reviewing its data storage strategy, the EEA decided its existing server room framework had to be upgraded to significantly improve the protection against fire and water damage, while the ventilation and cooling system also needed modernizing.
Due to the fact the EEA has many small applications handling the same workload throughout the year, it decided transferring the applications to a public cloud provider such as AWS or Azure was "uneconomic" and its applications were not architectured to benefit from such a migration.
The EEA wanted to avoid an expensive overhaul of the facilities. And so after reviewing various solutions, the EEA opted to choose colocation in DigiPlex's Copenhagen facility. The agency said the possibility to grow and partner with a supplier with a green and sustainable profile were key priorities.
"A key consideration in the decision-making process was for me to know the precise location of our data, and with the colocation solution from DigiPlex we have reached that goal. Our data is now located in a green data center close to our offices," said Søren Roug, Head of IT and Information Systems, EEA.
"The solution has proved to be a financial benefit as it has saved us the cost of an overhaul and of ensuring protection against fire, burglary or sabotage and upgrading of the electricity, cooling and ventilation system in our existing server room."
Roug said office space has also been made available, enabling the EEA to terminate expensive office leases elsewhere and move more staff to the headquarters.
Fredrik Jansson, CCO, DigiPlex added: "We are extremely pleased that the European Environment Agency (EEA) has chosen a co-location solution from DigiPlex in Copenhagen."
"We share the same vision of protecting the environment, and DigiPlex only builds and operates entirely green data centers, where we utilize innovative and sustainable solutions to be able to constantly meet the growing demand for data storage."
DigiPlex's 1,600 sq m (17,200 sq ft) facility was acquired following the 2018 takeover of an existing Telia data center. The company recently acquired a 110,000 sq m (1,184,000 sq ft) plot of land to the west of Copenhagen and could build up to five data centers on the site.