DigiPlex has signed Hewlett Packard Enterprise on as a customer of its data center near Arlanda airport in Stockholm, Sweden.
HPE plans to run high-performance computing and artificial intelligence workloads at the facility.
Taking stock in Stockholm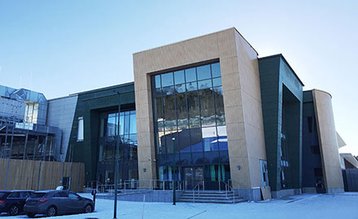 The DigiPlex Stockholm campus spans 26,000 square meters (280,000 sq ft) of white space, with up to 40W of IT capacity.
"Situating these advanced technical solutions and services in strategically located facilities that not only conform to stringent data protection rules, but also are powered by abundant low-cost, 100 percent sustainable energy helps HPE deliver on commitments to its clients as well as its sustainability agenda," DigiPlex CEO Wiljar Nesse said.
Anna Granö, HPE Sweden MD, added: "DigiPlex provides an excellent home for AI and HPC data needs, being scalable, of high standard, and well connected to an ecosystem of potential partners. Partnering with DigiPlex gives us the confidence that we have the right high-quality, truly sustainable, and secure data center to support our HPC and AI solutions for our clients."
HPE has increasingly shifted its business model to an as-a-service offering, in 2019 announcing that it wanted every product line to move to an -aaS model over time. Key to the company's transition is GreenLake, an IT service available in subscription-based, pay-per-use, and managed IT as a Service offerings. It can run in a company's own data center, or in a colocation facility.
In 2019, HPE also acquired HPC company Cray for $1.3bn. The storied supercomputing firm was already pushing into HPC-on-demand, but such efforts have only accelerated since the purchase.