Hewlett Packard Enterprise has entered into a definitive agreement to acquire supercomputing company Cray for $1.3 billion in cash.
Prior to the rumors of the deal being made public, Cray had a market capitalization of about $1.2 billion.
The transaction is expected to close by the first quarter of HPE's fiscal year 2020, subject to regulatory approvals and other customary closing conditions. Update: The acquisition has closed.
Craving Cray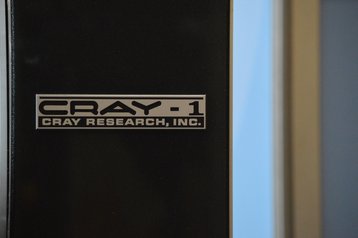 Founded in 1972 by legendary electrical engineer Seymour Cray, the company is synonymous with the development of supercomputing, but has struggled with mixed financial performance.
For its first quarter of 2019, ended March 31, Cray's revenue was $72 million, down from $80m the year before. It made a net loss of $29m, up from $25m. Earlier this year, it warned of "a substantial net loss for both 2018 and 2019," following an industry-wide market contraction.
"We're definitely seeing that [slowdown] as a dynamic in the marketplace because as the improvement in underlying silicon technology slows, there's less of a motivation to quickly buy a new system two years later," Cray's CTO Steve Scott told DCD late last year.
"On the one hand it is a worry in that you're seeing people spread out their buying cycles," Scott said, but added: "On the other hand, they may tend to buy larger machines as a result, because of the fact they have spread out their buying cycles so that their budget has coalesced a bit more."
The company has pinned its hopes on Shasta, its upcoming exascale-capable system architecture, a move which appears to be paying off: 2020 will see NERSC install Perlmutter, a Shasta-based AMD Epyc CPU and Nvidia GPU supercomputer, while 2021 will see the launch of not one, but two exascale supercomputers, Aurora and Frontier - both sporting Shasta.
Cray's new owner, HPE, is no stranger to the high-performance computing (HPC) market, and regularly competes for the same government and corporate contracts.
Notable recent wins include Astra, the world's largest Arm-based supercomputer, seven supercomputers for the US Air Force and Navy, and a 24 petaflop supercomputer for the University of Stuttgart.
In 2016, HPE expanded its presence in the supercomputing market by acquiring a different once-illustrious HPC company, SGI. Picked up for just $275m, the company was once worth over $7 billion.
In 1996, a previous iteration of SGI actually acquired Cray for $740 million, but was focused on extending its microprocessor-based line. Four years later, "SGI spun Cray off and they kept all of the parts of the company that were working on massively parallel processors using microprocessors," Scott told DCD. "The rest of us became Cray Inc, which is the company that we are today."
The 'new' Cray struggled on the verge of bankruptcy, and was saved by a single supercomputing contract - Red Storm - a story which we detailed last year.
One of the reasons why the Department of Energy gave the contract to the floundering firm was to ensure that the market remained competitive, after consolidation and exits from the market meant that there were only a few viable supercomputing companies.
It's official
"Answers to some of society's most pressing challenges are buried in massive amounts of data," Antonio Neri, president and CEO of HPE, said.
"Only by processing and analyzing this data will we be able to unlock the answers to critical challenges across medicine, climate change, space and more. Cray is a global technology leader in supercomputing and shares our deep commitment to innovation. By combining our world-class teams and technology, we will have the opportunity to drive the next generation of high performance computing and play an important part in advancing the way people live and work."
HPE said that expects $4 billion of exascale opportunities to be awarded over the next five years.
"This is an amazing opportunity to bring together Cray's leading-edge technology and HPE's wide reach and deep product portfolio, providing customers of all sizes with integrated solutions and unique supercomputing technology to address the full spectrum of their data-intensive needs," Peter Ungaro, president and CEO of Cray, said.
"HPE and Cray share a commitment to customer-centric innovation and a vision to create the global leader for the future of high performance computing and AI. On behalf of the Cray Board of Directors, we are pleased to have reached an agreement that we believe maximizes value and are excited for the opportunities that this unique combination will create for both our employees and our customers."
HPE said that the acquisition would allow it to offer future HPC-as-a-Service and AI/ML analytics through HPE GreenLake, gain a larger footprint in federal business and academia and to "deliver significant cost synergies through efficiencies and by leveraging proprietary Cray technology, like the Slingshot interconnect."
This article has been updated to reflect the acquisition's confirmation