Select Microsoft Azure data centers will soon offer access to Cray XC and Cray CS series supercomputers, along with Cray ClusterStor storage systems, thanks to a strategic alliance between Cray and Microsoft.
The 'exclusive partnership' will see Cray integrate its systems with Azure Virtual Machines, Azure Data Lake storage, the Microsoft AI platform and Azure Machine Learning services.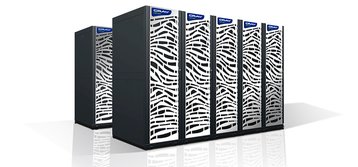 Supercloud
"Our partnership with Microsoft will introduce Cray supercomputers to a whole new class of customers that need the most advanced computing resources to expand their problem-solving capabilities, but want this new capability available to them in the cloud," Peter Ungaro, president and CEO of Cray, said.
"Dedicated Cray supercomputers in Azure not only give customers all of the breadth of features and services from the leader in enterprise cloud, but also the advantages of running a wide array of workloads on a true supercomputer, the ability to scale applications to unprecedented levels, and the performance and capabilities previously only found in the largest on-premise supercomputing centers."
While both companies described the deal as exclusive, it is not without precedent - earlier this year, Cray partnered with Boston-based data center company Markley to offer supercomputing-as-a-service, starting with access to the Cray Urika-GX.
At the time, Cray's VP of business operations in EMEA, Dominik Ulmer, told DCD: "In order to reduce the barrier to entry we thought maybe it would be good to reduce the work that you have to do to get to a HPC system - you don't have to run through a procurement, set something up in your data center and more.
"So supercomputing-as-a-service allows you to have opex instead of capex, which is oftentimes easier to organize within a company, and to get immediate access once you have that funding available, without caring about setting it up in the data center, dealing with your IT organization and so on."