Nordic data center company DigiPlex plans to build up to five data centers at a new campus near Copenhagen, Denmark.
The company has acquired a 110,000 square meter (1,184,000 sq ft) plot of land in the Høje-Taastrup municipality to the west of Copenhagen, and secured power contracts to support its development.
The project will be its second Danish data center site.
Register now for this week's global summit on data center sustainability DCD>Towards Net-Zero
Cooled by rainwater and an on-site lake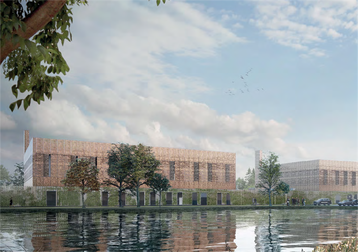 "We are seeing huge interest in sustainable data center development in the Nordic region and continue to invest to capitalize on this trend," said Wiljar Nesse, CEO of DigiPlex.
"The acquisition of this major plot, plus the Norwegian land acquisition we announced last month, further strengthens DigiPlex ability to rapidly meet the need for data center capacity from hyperscalers as well as local and international businesses requiring ultra-sustainable, cost-effective colocation facilities."
Nesse said that the company is ready to start construction and is in discussion with "a number of" potential international customers.
The five data centers will be water-cooled, with the majority of water needs set to be met by onsite wells and rainwater. The company plans to build a lake to collect rainwater and contribute to a storm-water basin. DigiPlex said it has secured enough electricity supply for the first phase of its development, but has the option to increase this to up to 100MW.
DigiPlex "will create development and invest in our local infrastructure and ecosystem," Høje-Taastrup mayor Michael Ziegler said. "I'm also very pleased to announce that DigiPlex has kindly agreed to contribute to water reservoirs and to upgrade local roads as well as building new cycle paths. This will benefit the whole community."