Equinix is soon opening a new data center in Madrid, Spain.
The company said this week that the new IBX facility, known as MD6, will have an area of ​1,466 sqm (15,780 sq ft) and a power of 4.8 MW, offering capacity for 600 racks.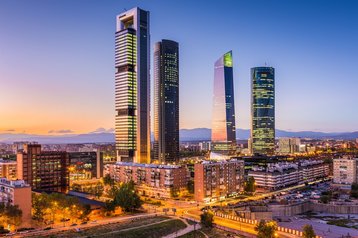 The company didn't give a firm date, saying it was due to launch soon, but the MD3x facility MD6 it is a part of is due to launch in Q3.
Ignacio Velilla, managing director of Equinix in Spain, said: "The launch of MD6 is an important step to consolidate Madrid as the engine of the digital economy in Spain, and involves the expansion of our interconnection campus in the country, reinforcing our position as a hub for southern Europe."
The company said the campus MD6 is located at – on Calle de la Pedriza, 12, Alcobendas – will also see two xScale data centers follow in future.
Judith Gardiner, vice president of growth and emerging markets at Equinix, added: "At Equinix our ambition is to ensure that Spain's digital infrastructure matches the world's leading markets and to provide local businesses with stronger international connectivity... Thanks to our desire for expansion and continuous innovation, we are providing new capabilities to digital actors that allow them to simplify operations, improve the customer experience and sustainably accelerate the launch of new products and services on a global scale."
Equinix currently operates two IBX facilities, known as MD1 and MD2, in Madrid. It also has the MD3x, a hyperscale facility under the company's xScale brand. According to the company's Q2 results, Equinix is leasing MD6, which is a portion of the 7MW Madrid 3x facility and is due to go live in Q3 2022.
The company also operates one facility each in Barcelona and Seville. Aside from MD6 and MD3x, Equinix acquired all of its Spanish facilities in 2017 when it bought local operator Itconic from the Carlyle Group for €215 million (then $259m).
A phase four expansion of MD2 is set to another 375 racks in Q3; both MD1 and MD2 are leased facilities.