Equinix has signed a new wind Power Purchase Agreement with French renewable power producer Neoen in Finland.
Under the 10-year deal, Neoen and project developer Prokon will supply Guarantees of Origin from at least 42MW of wind capacity from the 53MW Lumivaara wind park currently under development to Equinix facilities.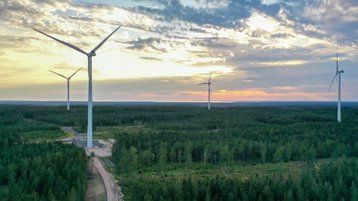 Equinix will procure 80 percent of the wind farm's output. Construction work on the project, which is located in the municipality of Hyrynsalmi, is due to begin in 2023, with commissioning scheduled for early 2025. Neoen owns 80 percent of the project and Prokon the remaining 20 percent.
This is the second PPA signed between the three companies this year. In January 2022 Equinix signed another 10-year deal to procure 85 percent of the energy produced by the 35MW Björkliden wind farm. The project farm will have seven wind turbines and with a total capacity of at least 35MW. Construction is scheduled to begin in 2023, with commissioning to follow in 2024.
Equinix currently operates five data centers in Finland, located in the Helsinki-Espoo area, and is planning a hyperscale facility in the city under its xScale brand. The company has pledged to use renewable energy across its entire portfolio of 220+ data centers globally by 2030.
Neoen said this deal is the 7th PPA the company has signed in Finland, taking its secured capacity in the country to nearly 600MW.
Equinix expands Finnish district heating scheme
Last month Equinix announced it had extended its district heating agreement in Helsinki with local energy company Helen. The extension of the agreement enables Helen to use the additional waste heat generated from Equinix facilities in Suvilahti and Viikinmäki, known as HE3 and HE5 respectively, and distribute it to benefit Helsinki residents.
Equinix first partnered with Helen, using data center heat in the latter's district heating network in Kanavaranta to heat homes in Helsinki, back in 2010.
Sami Holopainen, CEO of Equinix Finland said, "Helen and Equinix are two of the first companies that brought data center district heating to the city of Helsinki and I am extremely proud to be able to continue that long-held relationship with the addition of these district heating projects to two of our most innovative data centers."
Timo Aaltonen, Helen's SVP, Operations and Asset Management, added: "Our long-term partnership with Equinix is an example of groundbreaking projects data center companies can embark to create meaningful value to residents around these centers. With Equinix's waste heat, we are able to warm up several thousand households in the greater Helsinki area."