Global colocation firm Equinix has signed a Power Purchase Agreement (PPA) with Neoen and Prokon to procure renewable energy from a wind farm in Finland.
The two energy companies will supply Equinix with 85 percent of the energy and guarantees of origin to be produced by the 35MW Björkliden wind farm.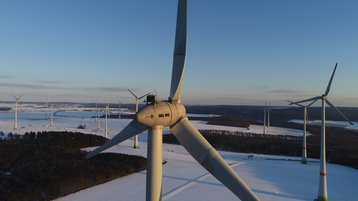 Equinix currently operates five data centers in Finland, located in the Helsinki-Espoo area, and is planning a hyperscale facility in the city under its xScale brand. The company has pledged to use renewable energy across its entire portfolio of 220+ data centers globally by 2030.
"At Equinix, we are committed to achieving our long-term goal of 100 percent clean and renewable energy across our portfolio of over 235 data centres around the world," said Sami Holopainen, Managing Director, Finland at Equinix. "With the support of Neoen and Prokon in Finland, we are one step further to accomplishing that and our pledge to become climate neutral globally by 2030 and achieve our science-based targets."
Located in the municipality of Närpes, in the western region of Ostrobothnia, the wind farm will have seven wind turbines and with a total capacity of at least 35MW. Construction is scheduled to begin in 2023, with commissioning to follow in 2024. The PPA runs for 10 years and is partially indexed to market prices.
"We are delighted to see global companies like Equinix committing to Finnish wind power and honoured that they have selected Neoen to provide renewable energy to the five leading data centers Equinix operates in the country," said Jerri Loikkanen, Managing Director of Neoen Finland.
Björkliden will be Neoen's third wind farm in Finland, taking the group's installed capacity to over 500MW in the country. Neoen owns an 80 percent stake in the new project, with Prokon owning the remaining 20 percent.
Xavier Barbaro, CEO and Chairman of Neoen, added: "This new contract demonstrates our ability to win tenders from companies like Equinix who are seeking to secure a supply of renewable energy."
Last July Russian search platform Yandex signed a five-year PPA with with Finland's Ilmatar Energy to power its Mäntsälä data center in the country with energy from wind farms.