Amazon's plan to build a second data center on its site in Drogheda has been put on hold, after complaints from environmental group An Taisce.
The company is already building one facility on the site in County Meath, and has applied to build two more. Although the second one was approved in June, by the County Meath authorities, it is now waiting on an appeal with the Irish planning board, over claims by An Taisce, the Irish National Trust, that the authorities had not factored in the impact of the multiple data centers on Ireland's energy supplies and its renewable power targets. The appeal is to be heard by the Irish planning authority, An Bord Pleanála.
Amazon was due to begin building the second data center in 2023 and bring it online in 2026. Each of the three proposed data centers would use 48MW of power and employ 50 people.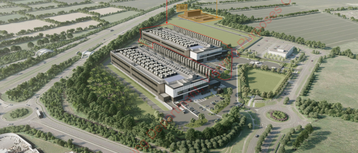 Back to the planning board
Amazon wants to build three two-story data centers on the site, and has already started building the first. An Taisce, the Irish National Trust, says data centers are expected to use 31 percent of Ireland's electricity capacity by 2027, and each of Amazon's 48MW facilities would account for 0.26 percent of Ireland's greenhouse gas emissions, according to a report in the Irish Times.
Amazon has promised to be carbon neutral, with a target date of 2025, and has been paying for a series of three wind farms in the country. When the final two come onstream in 2022, that will create a total capacity of around 229MW.
Plans for a €350 million data center by Amazon in Drogheda have been put on hold following an objection to the project by An Taisce over claims planning authorities are failing to take account of the negative impact of data centers on Ireland meeting its renewable energy targets.
An Taisce says the local authorities and An Bord Pleanála aren't looking at the bigger picture; treating each data center individually, is "a systemic infringement" of the EU's requirements for an environmental impact assessment which takes the cumulative impact of development into account.
Although Ireland is increasing its renewable energy supply, it shouldn't be squandered on data centers, and any new data center development should be tied directly to new renewable energy production, beyond what Amazon is already providing said An Taisce's planning and environmental policy officer at An Taisce, Phoebe Duvall, according to the Irish Times: "Any new data center should provide a new, directly linked supply of renewable energy and should not jeopardize Ireland's existing national climate/renewable energy targets."
Ireland has been a rapidly increasing hub of data center provision in Europe, thanks to its favorable tax regime and power supplies, but the political climate is showing signs of changing. In June this year, the People Before Profit party introduced a bill that would ban data center development in Ireland. People Before Profit is an "ecosocialist" party with four members in the Irish Parliament, the Dail Eireann.
Despite this, Apple recently revived its bid to build a data center in Athenry - a bid which was so completely stalled in the planning process that the company had previously put the land up for sale. A local pol. Local Sinn Féin representative, Louis O'Hara has suggested the Irish state should buy the land to ensure it is developed.,
The planning authorities in Ireland have a long history with data centers. Delays to the approval of Apple's proposed facility in Athenry led to the company withdrawing from the project, although its status is not unclear.