US colo provider Element Critical has broken ground on the first expansion project at its recently acquired Houston One data center.
The company acquired the facility from Skybox Datacenters in March for an undisclosed amount.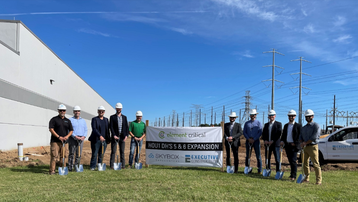 Houston One's first expansion phase will extend the original building's core and shell 33,000 sq ft (3,000 sqm) to envelope two new 5MW dedicated data halls. The projected completion in Q2 2022 will raise the facility's total capacity to 32MW.
"Businesses have experienced a seismic shift toward digital advancement and require the always-on availability and proven operational expertise that our purpose-built Houston facility provides," said Ken Parent, CEO of Element Critical.
The expansion project at Houston One broke ground on September 22, with Executive Construction as the general contractor.
"Executive Construction's impressive portfolio of over 150 mission-critical projects and the successful completion of our Chicagoland data center expansion makes them a great partner for our first development collaboration in Texas," says Matt O'Hare, Director of Design and Construction Operations at Element Critical.
Founded in 2014 as Central Colo, Element Critical has five other data centers; one in Sunnyvale, California; two in Chicago, Illinois; another single facility in Tyson's Corner, Virginia; and another Texas facility in Austin recently acquired from vXchnge.