US data center developer EdgeCore is planning a new facility in Northern Virginia.
EdgeCore Digital Infrastructure this week announced a partnership with US real-estate firm Penzance to co-develop on 7.6 acres.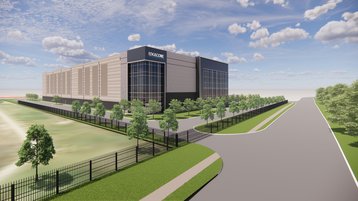 Though the company doesn't specify the exact location, local press reports the acquired site is at 1501 Moran Road in Loudoun County's Sterling.
The site will house a three-story data center totaling 285,000 sq ft (26,475 sqm) and 36MW, taking the company's Virginia footprint to 633,000 sq ft (58,800 sqm) and 90MW. The site plan approval process is expected to be completed by the end of 2023.
The company's other Virginia site is also in Sterling, at 45865 Maries Road.
Penzance reportedly acquired the new Moran site earlier this year for $2.2 million. The site was previously a single-story office/food manufacturing building leased to Cuisine Solutions and under Cambridge Holdings' management since 2011.
"With the acquisition of additional land in Northern Virginia, EdgeCore adds another key data center location to our portfolio and continues to advance our focus on rapid growth and development in key data center markets," said Lee Kestler, CEO, EdgeCore. "We are pleased to have partnered with Penzance on this project and are grateful for the acceleration they are bringing to the process through their deep regional expertise and connections."
Launched in 2018, EdgeCore has six data center campuses across the US in operation or development, spanning Phoenix, Arizona, Virginia, and Silicon Valley. The company was acquired by Partners Group last year with plans to invest up to $1.2 billion to fund the acquisition and build-out of existing and future data center sites.
"The Penzance team has prepared this site for data center development and is excited that our partner, EdgeCore, shares our vision and will apply its expertise to advance the project to its next phase," said Cristopher White, managing director of investments, Penzance. "We continue to invest in and grow our Virginia portfolio across multiple product types, including data center, industrial, and multifamily through our discretionary value add funds."
EdgeCore recently broke ground on a new campus in Santa Clara, California, and has bought land in Mesa, Arizona from Meta. In 2021 the company submitted plans to build a data center in Berkshire, UK, on the site of a former HP office.
CEO Kestler took over leadership of the company last month.
Founded in 1996, Penzance is focused on residential, industrial, office, and data center developments. It owns a number of office, industrial, and flex sites in the wider DC area. In 2021, the company was seeking $350m for a real estate fund partially focused on investing in data centers in the Virginia area.
Last year the company filed to develop a data center in Chantilly in Fairfax County on a site previously earmarked for an auto sales facility.