Australian data center firm DXN is to build a modular data center for a new Covid-19 quarantine center being built in Perth, Western Australia.
The company this week announced it had been contracted by construction firm Multiplex to supply a modular data center and 10 communications rooms for AU$3.5 million (US$2.5m).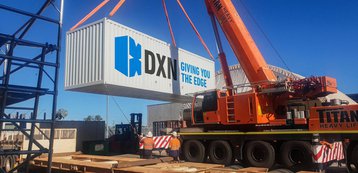 "DXN is pleased to announce that it has entered into a contract to fabricate, supply, and install a modular data center and 10 'turn-key' communications rooms for a total contract value of ~A$3.5m with Multiplex," the company said in an ASX statement.
The facilities are for the Centre for National Resilience Perth. Centres for National Resilience are quarantine facilities that are federally funded but operated by the states. Centers are being built in Melbourne, Brisbane, and Perth to 'support overseas travel and ensure the safety of the Australian community.'
Work on the modules has begun at DXN's factory in Perth, with an expected delivery date of 'by the end of March 2022'.
"This project utilizes local manufacturing at Western Australia, and is undertaken in partnership with our customer, Multiplex and the Australian Government's Department of Finance," said DXN CEO Shalini Lagrutta. "We are very proud to support local manufacturing and local jobs for such an important Federal government project."
ASX-listed DXN currently operates three data centers; the 4,351 sqm (46,800 sq ft), 5.5MW DXN-SYD01 in Sydney, a second facility in Hobart, Tasmania, and 350 sqm (3,700 sq ft) bunker with two data halls in Darwin.
The company has also delivered at least 18 modular data centers to customers including Boeing and Covalent Lithium. Most recently in September 2021, it entered into a contract to supply a prefabricated Cable Landing Station for US$779,000 to the Belau Submarine Cable Company (BSCC) for its new cable spur to Palau.