HPC company DUG Technology has announced plans to build a carbon-free high-performance computing (HPC) center in Geraldton, Western Australia.
The ASX-listed company said the facility will have an initial compute capacity "in excess of 200 petaflops" with further plans for "multi-exaflop" expansion in the future across 10 data halls. Though the company hasn't defined whether it is measuring in single- or double-precision for this announcement, it usually measures in the former, and it would be more realistic given the cost of the facility.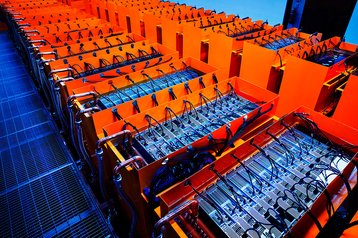 The facility will be powered by solar and wind, and an onsite hydrogen battery system is also being investigated as part of the project. The HPC systems would utilize DUG's immersion-cooling technology.
"As demand for HPC continues to grow exponentially around the world we must invest in world-leading, carbon-free, cost-effective HPC solutions for our clients," said DUG founder and CEO, Matt Lamont. "We developed our award-winning DUG Cool immersion system to reduce the energy footprint of our data centers. Having the ability to utilize this technology at scale would solidify the Geraldton campus as the world standard in environmentally-friendly HPC."
Construction is due to begin in the third quarter of 2021 with the Stage 1 data hall to be commissioned in the first half of 2022. The company is investing AUS$5 million (US$3.8 million) for the initial data hall from existing cash reserves.
Previously known as DownUnder GeoSolutions, the company was founded in Perth in 2003 to provide high-performance compute solutions for scientific data analysis and provides HPC-aaS to customers. It works with oil and gas companies to help them find and extract more fossil fuels.
DUG plans to lease 45 hectares of land in the Narngulu area of the city, some 400km north of Perth. The land is expected to pass to the Yamatji Nation Trust later this year as part of the Yamatji Nation Indigenous Land Use Agreement. The company says the project – which includes opportunities and training for the Yamatji people – has the full support of the Yamatji Nation Board.
"This project has such important economic, environmental, and social implications," added Lamont. "We would be delighted to work with the Yamatji people and extremely proud to bring employment and training opportunities to regional Australia and indigenous youth."
DUG says the location is ideal to play a key role in Australia's involvement in the Square Kilometre Array (SKA) Project and plans to design and operate the facility to meet requirements for the provision of services to all levels of the public sector.