Oil and gas computing specialist DownUnder GeoSolutions (DUG) has opened its Bubba supercomputer in a 15MW, 22,000 square foot data hall at Skybox Houston.
Bubba is currently capable of 30 petaflops, single-precision. Once fully deployed, the liquid immersion-cooled supercomputer will be theoretically capable of 250 single-precision petaflops of performance - that is, 32-bit processing, while double precision is 64-bit. The benchmarking tools used to create the Top500 supercomputer list require 64-bit floating point arithmetic or higher, but the oil and gas community often only needs to run single-precision workloads.
The company plans to start building out a second, identical, data hall by late 2019.
Dig in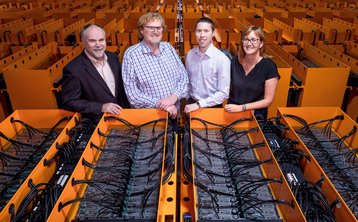 Bubba will use Intel Xeon Phi 'Knights Landing' CPUs, the high-performance computing processor that Intel quietly killed last year. DUG said that it had a commitment from Intel to continue to supply it Phi chips for its current expansion plans.
The company claims that work is currently underway for DUG to expand the supercomputer facility at Skybox beyond an exaflops (double-precision) by 2021. "We are in a race to build the first exascale supercomputing system," said Phil Schwan, CTO for DUG. That year, the US government will also launch its first two exascale supercomputers, Aurora and Frontier, costing $500m to $600m respectively.
DUG's Houston supercomputer will rely on liquid cooling, using the company's proprietary system called 'DUG Cool' which submerges the servers in polyalphaolefin dielectric fluid.
DUG's MD, Dr Matthew Lamont, said: "DUG is offering a unique cloud product including compute, storage, geophysical software, and services, initially with a massive 250 petaflops of geophysically-configured compute ready to go."