Oil and gas computing specialist DownUnder GeoSolutions plans to launch a large, liquid-cooled supercomputer within Skybox Datacenters' facility in Houston, Texas.
DUG will lease 15MW of capacity, deploying more than 40,000 servers in what marks the largest colocation deal in Houston's history.
The data halls are set to be completed in February, and launched by the second quarter of 2019. In aggregate, the cloud service - known as DUG McCloud - will deliver 250 theoretical single-precision petaflops of performance.
Can you DUG it?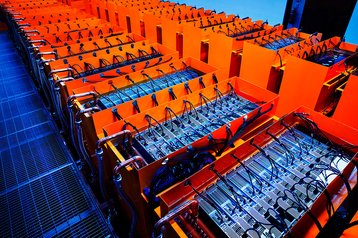 "DUG McCloud will provide enormous compute capacity and high-performance storage for DUG's service business," managing director Dr Matthew Lamont said.
"It will further enable delivery of high-frequency FWI [Full Waveform Inversion] and RTM [Reverse Time Migration] in addition to other high-end and compute-intensive algorithms."
FWI and RTM are used by oil and gas companies for earth imaging to help with the discovery and extraction of fossil fuels. The process can be incredibly time- and compute-intensive, with 12Hz FWI results taking up to a year on some systems.
Talking to The West Australian, DUG said it hoped to release 100Hz analysis software, which requires more than 4,000 times the computing power of a 12Hz analysis. The company also told the publication that it planned to spend $US250 million on growing its high performance computing (HPC) capacity over the next five years.
DUG's Houston supercomputer will rely on liquid cooling, using the company's proprietary system called 'DUG Cool' which submerges the servers in polyalphaolefin dielectric fluid.
"We like to call it the greenest cloud service in the world," Lamont said. "DUG McCloud certainly offers more than just a silver lining."
The company claims that this setup has allowed it to operate data halls in Perth, London, Kuala Lumpur and Houston with a PUE of 1.05 or less. Across the existing facilities, DUG has 50 petaflops of performance (single precision), but hopes to increase that to 500.